This is the round-up of the 61st edition of My Legume Love Affair (MLLA), which means that there have been 60 editions previously. It also means that, given the enthusiastic response this event evokes in the food blog world every month, people do indeed love their legumes a lot! It's nice to see that the 61st edition of MLLA also brought out the best in the lentil world once again, and I'm happy to present the round-up. I have tried to categorise the submission under various headings for easy reference but otherwise the submission have been presented no particular order.
BREAKFAST
 Barley Adai by Priya Srinivasan of Enveetu Kitchen.
 Green Gram And Oats Dosa by Lata Raja of Flavours and Tastes.
TEA TIME SNACKS/ IN-BETWEEN MEALS
 Masala Vada by Sapana Behl of Cooking With Sapana.
Chickpea Potato Koftas with Ricotta Cheese by Lisa of Lisa's Kitchen.
 Parippu Vada (Split Pigeon Pea Fritters) by Priya of The Humpty Dumpty Kitchen.
 Vegan Moroccan Tajine Flaky Filo Twist Pies by Shaheen of Allotment2Kitchen (A2K)
 Falafels by Chocolette of Chocolate Log Blog.
 Salt and Vinegar Roasted Chickpeas by Janet of The Taste Space.
 Dahi Vada by Lubna Karim of Yummy Food.
 Badeel (A Kumaoni snack) by Namita of Ambrosia.
MAIN DISHES
 Sprouted Moath Bean Pulao by Nandita of Paaka-Shaale.
 Chickpea Gnocchi by Cinzia of Cindystar Blog.
DHALS & OTHER GRAVY DISHES
 Dal Tadka by Priya of Soups and Sights.
 Cauliflower Peas Kurma by Meena of Encourage Spice.
 Alsanyache tonak(tondak) by Sandhya Ramakrishnan of My Cooking Journey.
 Punjabi Mom's Dal Makkhani (Simplified) by Disha Kapadia of Salt and Pepper (With a Lot of Spice)!
Kadala Curry (Kerala Style) by Meena Raghavan of Cooking with Meena.
 Split Bengal Gram aka Chholar Dal or Chana Dal by Sanhita Roy of Pocket-full of Spices.
 Sri Lankan Devilled Dhal Curry by Sra of When My Soup Came Alive.
Long Bean Potato Poricha Kuzhambu by Priya Suresh of Priya's Versatile Recipes.
 Bengali Red Lentils and Broccoli by Rinku of Cooking in Westchester.
 Green Gram Curry/ Payaru Curry by Avika of A Day Through My Life.
 Chettinad Paruppu Urundai Kuzhambu by Meena Thennaapan of Chettinad Fiesta.
 Mixed Dal by Pamela Kanjilal of Pam's Cookbook.
 Aamer Dal/TokDal: Tangy Red Lentils with Green Mango by Soma Rathore of eCurry.
Moong Dal with Spring Onion by Arundati Rao of Escapades.
 Cowpeas Curry /Black Eyed peas Curry / Lobia Curry by Divya Shivaraman of Dishing.
 Simple Tomato Dal by Sowmya Dinavahi of The Tales of My Cooking.
 Vegetarian Chicken Balti by Roshni Chandrasekar of Roshni's Kitchen.
 Boiled Masoor Dal with Lime Leaf and Mustard Oil by Sandeepa of Bong Mom's Cookbook.
 Vegan Grilled Tofu Massaman Curry by Susan of the Well-Seasoned Cook.
 Mung Dal (no-onion, no-garlic) by Vishakha Bharadwaj of Sublime Palate.
 Feijoada (Goan Black-Eyed Beans Coconut Milk Stew) by Aparna of My Diverse Kitchen.
STIR-FRIED OTHER SIDE DISHES
 Kondakadalai Pirattal (Garbanzo Stir Fry) by Anusha Praveen of Tomato Blues.
 Mathan Erisseri by Rajani of My Kitchen Trials.
SALADS
 Simple Peruvian (Mayocoba) Beans Salad by Gayathri Ramanan of Foody-Buddy.
CHUTNEYS DIPS
 Edamame Dip by Purnima Narayanan of Nice Eats.
 Kadalebele Chutneyby Suma Rowjee of Cakes And More.
 Chickpea-Apple Curried Chutney by Nikita of A Real Housewife.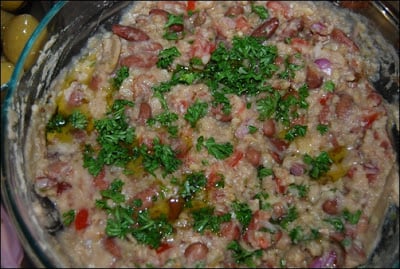 A Lebanese Feast: Foul Mudamas, Hummus by Malini Ratnam of Roz Ka Khana.
 Kollu Thogeyal /Horse Gram Chutney by Jayasri of Samayalarai (Cooking is Divine)
SWEETS & DESSERT
Moong Dal Kheer/Cheru Payar Parippu Payasam by Cinzy Johnson of Cakes Tales.
 Ukkarai by Nithu Bala of Nithu's Kitchen.
I have, to the best of my belief, included all the submissions I was sent in this round-up. If you had sent me a submission and I have, by some chance left it out, please send me a mail or leave a comment at this post and I will include it.
And it's finally that time that everyone's been waiting for – the announcement of the prize winners! month. As I mentioned in the announcement post, this month, there's an extra prize to be won so that's a total of three prizes.
As always, there is a case of six bags of the winner's choice of Hurst Bean products sponsored by Hurst Beans for one US resident. Then there is a copy of Sandeepa MukherjeeDatta's (a.k.a the BongMom) book of the same name for one lucky participant from anywhere in the world.
And this time there's also a copy of this book to be won exclusively by a participant who is an Indian resident. Susan is generously offering both copies of the book at her own expense, and she will also pay for shipping worldwide.
And the winners are……
Shaheen** of Allotment 2 Kitchen who wins a copy of Sangeeta's BongMom Cookbook!
Meena Raghavan**of Cooking With Meena who wins the 6-pack assortment of products from Hurst Beans
And Arundati Raoof Escapades who wins the second copy of the BongMom Cookbook
Congratulations ladies, on you win. Lisa will be getting in touch with you shortly with details regarding your prize.
I would also like to thank Susan who started this whole thing when she thought up MLLA five years ago, and Lisa who has taken on the mantle to keep this event going. Finally, my thanks to all those who participated in this month's MLLA to make it the success this event is.
The August edition of MLLA is being hosted by Siri, so please see her announcement post for more details