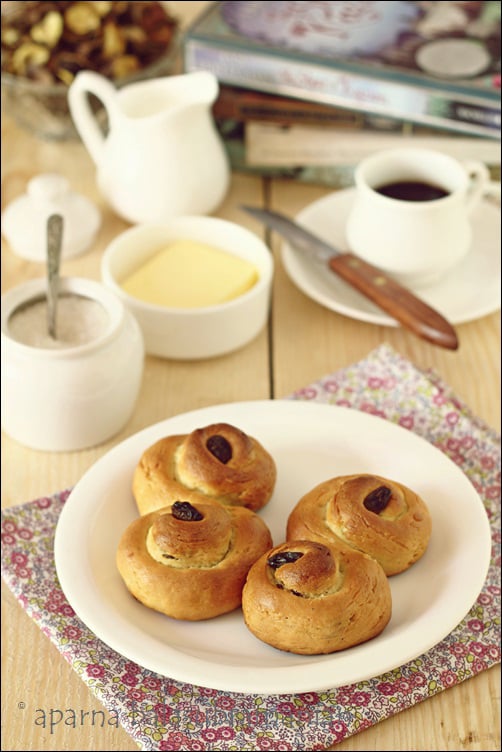 This time of the year is really a good time to bake, and I can think of so many reasons to do it (and a couple of very good reasons NOT to!). For one it is officially the "holiday season" though not for us since we don't celebrate Christmas. But I have a lot of friends and neighbours who do, and magazines, food sites and food blogs are all about festive baking at this time of the year. Most of all, the weather has finally cooled down enough here, that the thought of baking in a warm kitchen is actually attractive! And the best reason of them all, I love to bake, especially breads.
Every year this time, I look forward to discovering and baking festive bakes that I haven't before. This post is dedicated to Swedish saffron rolls called Lussekatter/ Lussebulle or St. Lucia Rolls. These saffron flavoured "S" shaped rolls are baked to celebrate Advent and Sankta Lucia on the 13th of December every year, in the memory of St.Lucia, the patron saint of the blind.
A similar "S" shaped bread called Pane Siciliano is traditionally baked in Syracuse for the Feast of Santa Lucia, and this shape is referred to as "occhi di Santa Lucia" (eyes of St. Lucy). This bread though celebrating the same feast is a different bread in that it is a sesame topped semolina bread without raisins.
Before the Gregorian calendar was adopted by Sweden, the 13th of December (St.Lucia Day) marked the Winter Solstice. It is believed that the Swedes originally celebrated this festival in the honour of Freyja, Norse goddess of beauty, fertility and creativity. With the arrival of Christianity, this became a celebration in honour of St.Lucia.
St.Lucia's dayin Sweden is celebrated with the eldest daughter in each home waking her parents with a breakfast of St.Lucia rolls and hot coffee. Portraying St.Lucia, she would traditionally be dressed in a long white gown tied with a red sash, and wear a crown decorated with lingonberry leaves and lit candles. Her siblings would follow her, also dressed in white, holding lit candles, and singing Christmas songs.
There are a couple of different stories about the origin of these rolls. The common one is that Lucia, who died around 3ooAD in Syracuse, Sicily came from a rich family. When her ill mother recovered miraculously, she and her mother distributed their wealth in thanksgiving, among the poor of Syracuse.
Another version says she consecrated herself to God and refused to marry her betrothed and gave away her dowry to the poor. Either way, her fiancé was unhappy with her behaviour.
The slighted angry young man, of pagan faith, took revenge by informing the local authorities that she was a Christian! They tried make her renounce her Christian beliefs by drag her away and burn her but she could neither be moved nor would the flames burn her up.
They finally killed her by driving a sword through her throat. Over time this changed to a story that she was tortured by the soldiers who gouged out her eyes, and she is usually portrayed in religious images holding two eyes on a plate, as befits a saint of the blind.
Another less popular version is that the holiday and the rolls have nothing to do with St.Lucia, but with Lucifer, the devil. In this version, Lucia was Adam's first wife. Apparently she consorted with the Devil and her children were invisible fiends. It is said that Lucifer took to scaring children in the shape of a cat while Jesus in the person of a child gave out buns to well-behaved kids. The "S" shape of the buns signify a cat curled up (well, use your imagination and stretch it some!) and the bright yellow of the saffron coloured rolls would keep away the devil who did not like light. Thus the name could have come from "lux" (light) and Lucifer.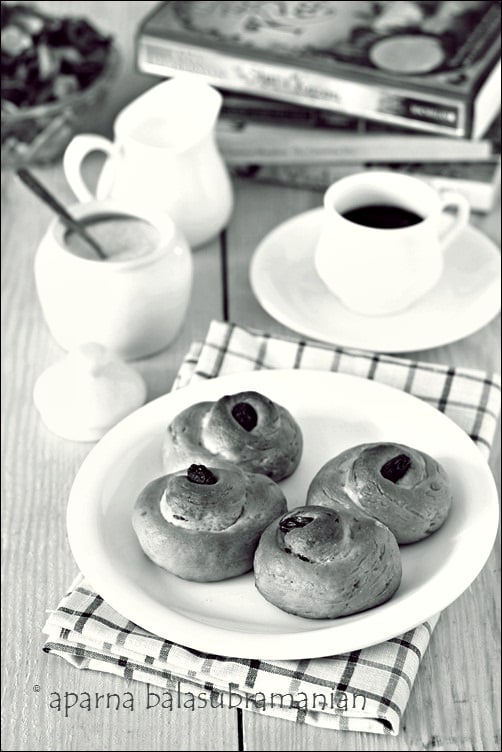 I wanted to post this yesterday in keeping with it being December, the 13th and St. Lucia day. Since I'm neither Swedish nor do I celebrate the day, I was under no pressure to do so. Make them with or without the raisins, and you still have a slightly sweet and festive roll to have with your coffee or tea.
Most St. Lucia rolls recipes include quark (a German fresh cheese which is easily made at home) or sour cream. I didn't have time for making either, so I used thick hung yogurt instead. I decided to use Marcus Samuelsson's recipe which incidentally uses no quark and only milk. I settled on this recipe for a couple of reasons. Of course, there's no quark involved, but Marcus Samuelsson is also Swedish and so his recipe ought to work. I also like his idea of kneading raisins into the dough apart from using them to decorate the rolls. And I have seen him cooking on television.
Lussekatter or St. Lucia Rolls (Swedish Saffron Yule Rolls)
(Adapted from Marcus Samuelsson's recipe)
Lussekatter or St. Lucia Rolls (Swedish Saffron Yule Rolls)
T.
Ingredients
1

cup

milk

, warm

2 1/4

tsps

active dry yeast

1/2

cup

sugar

1/2

tsp

saffron

threads

30

gm

butter

, melted

4 to 4 1/2

cups

all purpose flour

(or more if needed)

4 to 6

pods

cardamom

, powdered

1/2

tsp

salt

1/4

cup

raisins

dark

3/4

cup

yogurt

, lightly whisked thick

24

raisins

to decorate rolls

Milk

, to brush over the rolls
Instructions
In a small bowl, mix together 1/4 cup of the milk, the yeast, and a pinch of the sugar and let sit for 10 minutes, or until it becomes frothy. Combine another 2 tablespoons of the warm milk and the saffron in a small bowl, stirring well. Keep aside.

I used my processor as usual, to knead the dough. Put 4 cups of the flour, the remaining sugar, the powdered cardamom, and salt in the processor bowl and pulse a couple of times to mix. Add the yeast mixture, the dissolved saffron, yogurt and the remaining milk.

Process the dough, adding more flour if necessary till you have a somewhat soft dough. Add the raisins and knead for a little longer till the dough is still soft but smooth, shiny and elastic but not sticky.

Shape the dough into a ball and place in a well-oiled bowl. Turn it to coat it well, cover and let it rise till almost double (about 30 to 45 minutes)

Deflate the dough, shape into a log and divide it into 12 equal portions. Lightly dust your work surface with flour and roll out each portion into a long and uniformly thin u201cropeu201d about 13u201d to 15u201d long. Fashion each u201cropeu201d into an u201cSu201d shape by curling each end of the u201cropeu201d toward its centre, into a tight spiral shape until you reach the middle of the rope.u2028See the collage.

Tuck in a raisin into the middle of the u201ccoilu201d at both ends of the u201cSu201d shape. Repeat with all the rolls and place them about 2u201d apart, on lightly greased or parchment lined baking sheets. Cover them with a towel and let them rise for about 30 minutes.

Brush them with milk and bake the rolls at 180C (350F) for 25 to 30 minutes until they are golden brown and they sound hollow when tapped on the bottom. Allow them to cool on a rack.
Notes
This recipe makes 12 Lussekatter. Lussekatter or Lucia buns are typically served with glögg (mulled wine served with blanched almonds and raisins), coffee, and heart-shaped pepparkakor (gingerbread).
These saffron coloured and flavoured Yule rolls are being YeastSpotted!