What's Christmas without fruitcake? For those who celebrate and make their own Christmas fruit cake, the excitement starts a month or two ahead with soaking all the dried fruit in alcohol. Steep the fruit this way ensures it will make an awesome fruit cake, but also ensures a long shelf-life once the cake is baked.
Traditionally, once made, the fruit cake would be wrapped in cheesecloth soaked in rum or brandy so that the cake would last and also develop a richer and fruitier taste as it ages. I read somewhere that fruitcakes preserved with alcohol and wrapped carefully actually last for up to 50 years! This may be exaggerating the case a bit too much, and I'm in no position to find out as I'm not going to be around that long from now.
The only thing is I don't like the Christmas kind of fruit cake. I never have, and I'm unable to decide which puts me off the cake more – the strong smell and taste of the alcohol in the cake or the awful tasting and coloured candied peel!
If there was one thing that puts me off Christmas, it is the gifts of Christmas fruit cake that arrive from friends and neighbours. You cannot refuse them, and you cannot give them away because everyone's home is full of the stuff! My husband on the other hand loves the stuff, but there's only so much he can eat of it. Our daughter has taken after me in this matter and will not even come near the cake.
I have in the past couple of years taken to baking my own fruitcake, mostly for my husband and to give to friends. I make them without alcohol and have discovered 2 distinct advantages my non-alcoholic cakes have. One is that the fruit that goes into it don't have to be "prepared" ahead of time, and the second that I can serve it to children (and myself too). My cakes do not smell "funny" either.
Of course, there are those who would argue that my fruit cakes are not the real deal. That's fair enough, but as far as I'm concerned there's enough place in this world for another kind of fruit cake (pun not intended!)
Last year, I had posted my non-alcoholic version of the famous Christmas-time favourite in Kerala,the Kerala Plum Cake. Now that's a dark and moist fruit cake and involves making a caramel sauce that goes into the cake. This time around, I wanted to make a lighter cake, in terms of colour, calories and the fruit in it. There is a variety of fruit cake that's called a light fruit cake because white sugar is used instead of brown sugar, and also the dried fruit used for this cake are usually light coloured like apricots, golden raisins, etc.
All the recipes I looked at had a lot of fat and eggs in them. Those that were low in both didn't really appeal to me. I was looking for a recipe that was comparatively lower in both fats and eggs (4 eggs invariably produces an "eggy" flavour that we don't like) as I wanted something healthier. Someone asked how cake could be termed "healthy"? I don't claim that cakes are healthy, just that I wanted to make a cake that wasn't "heavy" like the usual lot.
I solved the problem by coming up with my own version. No, my cake is not healthy but it does take a lot less butter (if you consider 100gm butter to be "less") and just 2 egg whites. It's also a moist but not dense cake, that also has a lighter feel when eaten. Make it without the marzipan cover/ decoration and it makes a lovely cake for a special tea.
For me fruit cake is about a cake that's not chock full of fruit and nuts. I like to it be a cake that's studded with fruit and that's how I chose to make mine. If you like more fruit you can increase the quantity in your cake. You can use whatever dried fruit and nuts you like but I used dried papaya, golden raisins, preserved cherries, almonds and pistachios.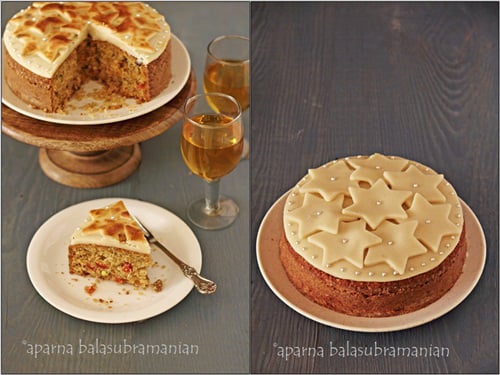 I also had some marzipan left in the fridge, that a very good friend sent me almost a year back. I had been zealously hoarding it but decided if I hoarded it any longer I might not be able to use it at all! So in the style of English Christmas fruit cakes, I decorated my fruit cake with marzipan. I left out the icing because I didn't want a very sweet cake. The idea for decorating the cake with marzipan stars came from here. I have to say toasting the marzipan gives it a very interesting taste. It also means you don't have to wait for the marzipan to dry out.
If you are inclined to do so, marzipan is best made at home and not very difficult to do. This was you can also adjust the amount of almond extract/ essence and rose water you put into your marzipan. You could also leave it out altogether if you don't like the flavours.
As coincidence would have it, Simone chose the theme for her monthly photography challenge to be "Christmas/ Festive Cakes" which is also the theme for Meeta's Monthly Mingle which she is hosting this month. So two birds with one stone!
I do most of food photography in my living-dining area at home. Since both the living area and the dining area have huge windows, I have the choice of deciding where I want my light coming in from and how harsh or soft it is depending on which part of the day I take photographs.
This time, I closed the curtains on both the left (partially) and the right windows so that I had enough light coming in from my kitchen door (yes, I have loads of natural light almost the year round where I live) to create a moody/ warm and festive mood with the light from the candles. I used a white foam board on the right to reflect some of the light coming in from the left. There were more highlights than I wanted, on the candles and Christmas decorations at the back so I used a short black board on the left (7:30 direction) to remove most of them.
The photograph above was taken with a 50mm f/1.8 lens at f/3.2, 1/13s and ISO 100.
A Light Fruit Cake Decorated With Marzipan.
A Light Alcohol-free Fruit Cake Decorated With Marzipan For Christmas & A Photography Exercise
W.
Ingredients
For The Cake:
100

gm

butter

, softened

1

cup

sugar

granulated

2

egg whites

, beaten well

1

cup

all-purpose flour

1

cup

cake flour

(or use 2tbsp cornstarch and top up with all-purpose flour)

1 1/2

tsps

baking powder

1/2

baking soda

sp

1/2

tsp

salt

1/2

tsp

cinnamon

1/4

tsp

nutmeg

1

tsp

masala

chai (optional)

1 1/4

cups

dried fruit nuts

mixed chopped candied fruit , and

1/8

cup

ginger

candied

1/2

cup

coconut

desiccated

1 1/2

tsps

orange

zest

1

tsp

lemon zest

1

tsp

vanilla extract

1/2

cup

orange juice

unsweetened (preferably fresh)

Marzipan

and silver dragees for decorating
For The Glaze:
3

tbsps

apricot jam

(or orange marmalade)

2

tbsps

water
Almond/ Cashew Marzipan
2

cups

sugar

3 1/2

cups

almonds

skinned and slivered / chopped (you can also use cashewnuts)

1/2

cup

water

1

tsp

almond

extract

2

tbsps

rose water
Instructions
Put the flour, cake flour, baking powder, baking soda, the powdered spices and salt in a large bowl and whisk together a couple of times to mix. Add the dried fruit, nuts and the ginger and toss coat them well with the flour. This ensures the fruit doesnu2019t sink to the bottom of the cake.

In another large bowl, cream together the butter and sugar with a hand held electric mixer till fluffy. Add the beaten egg whites, the lemon and orange zest and the extracts and beat till mixed. Now add the half of the flour, and then half the orange juice, then the rest of the flour and the orange juice beating well after each addition until just mixed well. Lastly add the desiccated coconut and beat till well mixed. Do not over beat the batter.

Scrape the batter into a well-greased and floured (or parchment lined, if you prefer) 7 1/2u201d or 8u201d round cake tin. Smoothen the top and bake at 180C (350F) for about 40 minutes to an hour till a skewer pushed into the middle of the cake comes out clean.If you find the cake browning too quickly cover with foil about halfway through baking. This cake will rise but dome very gently. Let the cake cool in the tin for about 20 to 25 minutes in the cake tin and then unmould it. Cool completely on a rack.

Make a glaze by boiling the jam and water for a couple of minutes. Press this through a sieve to remove lumps and let it cool slightly. Brush this over the cake just before covering with marzipan. The recipe for marzipan, if you want to make it, is at the bottom of this post.

To Decorate The Fruit Cake With Marzipan:

Take a piece of the marzipan (about the size of an orange) and roll it into a smooth ball and flatten it slightly. Dust your work surface lightly with icing sugar, and roll out the marzipan to a uniform thickness of about 1/8thu201d. Cut out a circle, using a pizza/ pastry wheel, the exact diameter of your cake.

Brush the apricot glaze over the top of the cake, and place the marzipan circle on the cake to fit it perfectly. Press it down lightly so it sticks to the cake.Take the scraps from the rolled out marzipan and a little more fresh marzipan and roll it together into a ball (about 3/4 the earlier amount) and roll out again to 1/8thu201d thickness. Using a star shaped cookie cutter cut out enough stars to cover the top edge of cake.

Using some of the apricot glaze to help stick them down, place the stars, in an overlapping manner, along the top edge of the cake and one in the centre if you want. Decorate with silver dragees/ sugar balls.

Put the remaining marzipan in an airtight container and refrigerate for future use.If you are not toasting your marzipan decoration, then leave the cake in a cool place, overnight, to dry out.

If you have a blow torch, use that to toast and brown the marzipan decoratively. Otherwise place the marzipan covered cake under the grill for about 3 or 4 minutes or in an 180C (350F) oven for a few minutes. Watch your cake to see the marzipan doesnu2019t burn!

Almond/ Cashew Marzipan

Powder the almonds finely by running them along with a little of the icing sugar, to prevent it from becoming pasty. Even if it does, thatu2019s ok. Just make sure there are no lumps.

Put the sugar and water in a pan, and stir till the sugar dissolves. Bring to a boil and add the powdered almonds, extract and rose water. On medium heat, stir frequently until the almonds cook and became a thick mass. Once it starts leaving the sides of the pan and resembles a dough, take the pan off the heat. Take the marzipan out of the pan and let it cool on a slab.

Once cool knead well till smooth and use as required, or wrap in cling film and store in an airtight container in the fridge. If your marzipan seems hard or dry, just u201cwarmu201d it in the microwave for a about 10 seconds and it will soften up. Otherwise add a few drops of warm water and knead well.