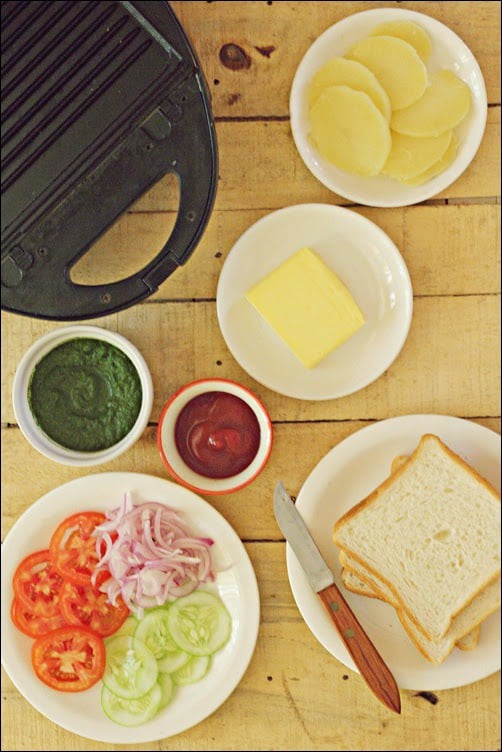 Last week I came across a link to an article that listed 50 sandwiches in the U.S. that one should eat and discovered that there were only a couple there that a vegetarian could eat. I would personally give them a miss though as one was the ubiquitous PBJ, another was Elvis Presley's all-time favourite deep fried banana-peanut butter sandwich (there's really no accounting for taste!) and then a sandwich with cheese which is technically not vegetarian because of the way cheese is made in the West.
When I remarked about this on Facebook (where else?), it set of a discussion which eventually moved on to a favourite Indian vegetarian sandwich and the Bombay Chutney Sandwich came up trumps! That set me off with the idea for a new post about it.
It was a revelation of sorts for me when I first discovered that sandwiches were eaten for lunch in many parts of the world! In India, where I come from, sandwiches are the stuff that we eat when we're in the mood for snacking even if the sandwich is stuffed with all manners of delicious fillings which it invariably is.
For us, a sandwich is meant to keep you going from one meal to the next, a sort of thing you eat to keep the hunger pangs at bay until you're ready for "real" food. Even then, there's a whole world of non-urban Indians (and some city types too) who still will look down upon bread and eat it only as a desperate measure.
Coming back to the subject of this post, the Bombay Chutney Sandwich, a lot of people who grew up in Bombay (I refuse to call it Mumbai if I can help it because it will always be Bombay to me) will relate fond memories of eating Chutney Sandwiches. They will share stories of either carrying it in their school/ college snack boxes or subsisting on it at their college canteens.
Others will tell of the numerous roadside food stalls or "Sandwichwallahs" (sandwich sellers) dotting street corners in the city and selling a huge range of sandwiches where the Bombay Chutney Sandwich is an old favourite.
Here are links to two videos worth watching, that show how the Sandwich makers on the streets of Bombay make their Bombay Chutney Sandwiches.
The Bombay Chutney Sandwich is, unfortunately, not one of my school/ college memories but I still ate my fair share of them (the plain/ basic variety) as a child on and off. My memories are made of plain Chutney Sandwiches were almost always a staple at tea time or served at the informal parties thrown by our Indian friends.
This is a sandwich that's a crowd pleaser (definitely with an Indian crowd or with those who have developed a taste for Indian food) and also one that's so simple and easy to make. In fact, the Chutney Sandwich is a very popular street food in Bombay and you can also find variations on the basic vegetable filled one, and there's also an equally popular toasted or grilled version of it. Like all street food, these sandwiches are also made fresh and they're very affordable, delicious and filling.
The Green Chutney Sandwich at its most basic is nothing more than some of the popular Indian coriander and mint chutney between two slices of buttered white bread. It makes for a moist, spicy and tangy tasting sandwich that has to be eaten to be experienced.
The Bombay street food version of the Chutney Sandwich on the other hand, is a little more substantial with a vegetable filling and would be more of a meal than a snack though I know of many who would still consider it a snack.
This sandwich is usually made by slathering some butter and then the spicy and tangy Green Chutney on a slice of bread, topping it with some sliced onion and tomatoes, boiled potato, a sprinkling of some "masala" and then topping this off with another buttered slice of bread. The sandwich is pressed down slightly, cut into 4 squares with a sharp knife and slid onto a paper plate. Finally, it's topped off with a squirt of tomato ketchup (don't leave this out, because it really makes a difference) and perhaps a smear of Green Chutney and its ready!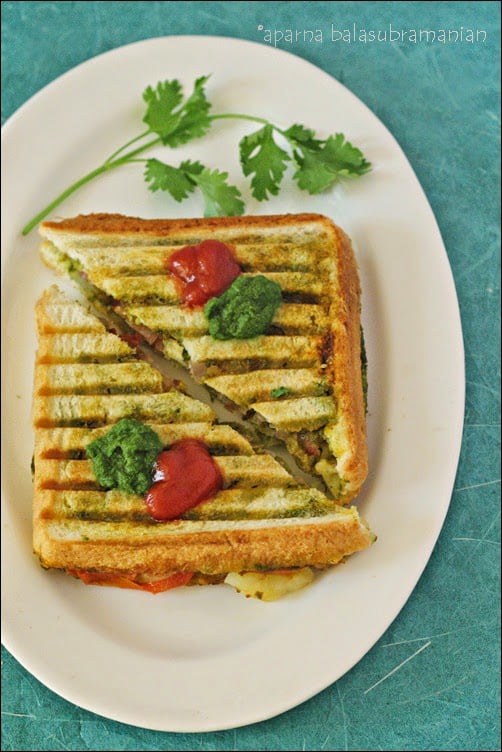 Some people leave out the cucumbers, but what is absolutely essential in a Bombay Chutney Sandwich is white sliced bread, the green mint and coriander chutney of course, boiled potatoes, sliced onions and tomatoes and that sprinkling of the sandwich "masala" or the spice mix. This spice mix contains spices like cumin, black pepper, fennel seeds, clove, cinnamon, star anise, mango powder, black salt and chili. This can be made at home, bought from the store as "Sandwich Masala" or you could use the more easily available store bought "Chaat" masala instead.
You can use brown bread, burger rolls or any other sandwich bread to make these Bombay Chutney Sandwiches and they will taste just as good or maybe even better, but if you're going for authenticity then use the store bought sliced white bread.
The Green Chutney that is used in these Sandwiches is usually the same one that is served on the side with savoury and crisp snacking and street food like Samosas, Kachoris, Bondas and Bajjias (all filled and enveloped with pastry or batter before being deep-fried)
Indian Street Food - The Bombay Green Chutney Sandwich (Grilled Version)
A popular street food and sandwich, especially in Mumbai, that is made with bread and vegetables, accompanied by a spicy green chutney and tomato ketchup.
Ingredients
For the Green Chutney:
1

cup

fresh coriander

1/2

cup

fresh mint

1/2

inch

piece of ginger

3 to 4

green chillies

(or according to your taste)

1 1/2

tsp

lime juice

to taste

Salt
For the Sandwiches:
8

slices white sandwich bread

50

gm

salted butter (preferably Amul)

Green chutney

(from above)

2

medium sized cucumbers

, thinly sliced

3 to 4

tsps

Chaat Masala

1

medium sized onion

thinly sliced

3

medium sized potatoes

(boiled and peeled), sliced

3

medium sizedtomatoes

, thinly sliced

some

tomato ketchup
Instructions
First make the Green Chutney. Put all the ingredients for the chutney into the blender or the chutney jar of your mixer/ grinder. Add a couple of teaspoons of water (as little as possible) and grind to a smooth thick paste. A runny Green Chutney will make soggy sandwiches. This sandwich will keep in the refrigerated for a couple of days, if stored in an airtight container.

The white Sandwich bread I get here has a pretty soft crust, so I donu2019t trim them for this sandwich. On the street, Indian sandwich sellers tend to vary between keeping the crust on their sandwiches, or else trimming the corners off.

Start by buttering one side of all the eight slices of bread and then spreading a thin layer of the Green Chutney over this.

Build the Sandwich on 4 slices of the 8. Start by laying a layer of sliced potatoes, a light and even sprinkle of the Sandwich masala, then a layer of sliced cucumbers, another sprinkle of the masala, then a layer of the sliced tomatoes, a sprinkle of the masala, and then the sliced onions. Sprinkle some more masala lightly and then drizzle some tomato ketchup over the top.

Cover each of the four built up Sandwiches with the remaining slices of bread, with the buttered side down. Slightly press the Sandwiches down (don't squish them down) and grill them in a sandwich press/ sandwich maker to a golden brown.

Cut each Sandwich diagonally into two and your Bombay Chutney Sandwiches are ready to be served warm, with a little Green Chutney and tomato ketchup on the side, if you like. This recipe makes 8 half Sandwiches and serves 4.
Notes
For variations on the Bombay Chutney Sandwich:
For the original, non-grilled version of this Sandwich, after adding the tomato ketchup, cover with the other slice and just lightly press down. Cut the Sandwich into 4 equal squares and top/ garnish each square with a little Green Chutney and a squiggle of ketchup and serve.
For a toasted version of the Sandwich, put the Sandwich in an electric Sandwich maker or a handheld Sandwich Toaster and toast it to a golden brown.
For a Cheese, Tomato & Chutney Sandwich fill the Sandwich with only sliced potatoes and tomatoes, then grate generous amount of cheese over the tomato layer and grill it. You can also substitute the cheese with crumbled paneer, if you prefer.In India we also have "Jain" versions of many popular street foods. The Jains are an Indian community who are vegetarians but also don't eat onions or root vegetables. So to make a Jain version of this Sandwich, leave out the onions, potatoes and substitute with more of the cucumbers and the tomatoes and proceed to make it as usual.
Sometimes these Sandwiches are also topped a a little more butter and sev (crunchy, deep-fried chickpea flour vermicelli) for some delightful crunch