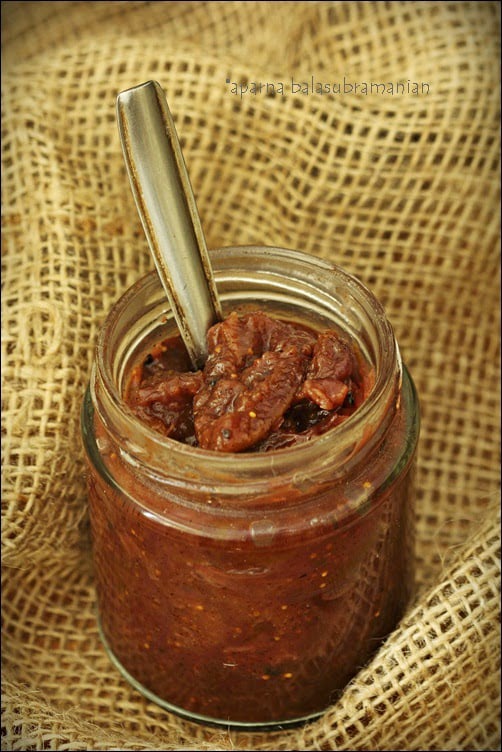 I really, really like figs and I prefer the fresh fruit to the dried figs which is all we used to get where I lived. Fresh figs spoil very quickly and given the lack of good transportation methods in the good old days, dried figs was all we got. Even then they were exotic stuff that we only saw occasionally if someone from the Northern part of the country came visiting and brought them as a gift.
Luckily for me, things have changed a lot since then and I get to enjoy fresh and beautiful figs in plenty every season. Unfortunately, I'm the only one in my home who has this love for fresh figs though my husband loves the dried/ dehydrated kind but doesn't mind what kind if it's fig ice-cream. Our daughter tends to avoid them as a whole. However all of us like this Fresh Fig & Onion Chutney.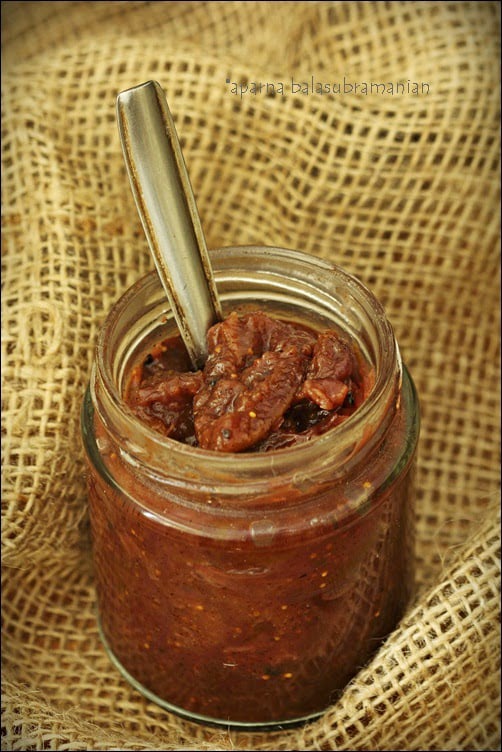 That means that I'm always on the lookout for good recipes that will use fresh figs and transform them into something that everyone likes. This time, I decided to preserve them a little differently from my usual Spiced Fig Preserves and cooked the figs into Chutney.
Generally, traditional Indian Chutneys can be divided into fresh ones which are usually uncooked and have to be consumed the same day, or cooked Chutneys which are usually preserved with a lot of oil.
The Chutneys of Indian origin which the Western world is generally familiar with, are a legacy of the British and other European colonials and use vinegar as a preservative. This style has endured and has become the way to pickle or preserve food in many parts of India, but where I come from in South India a Chutney is usually made fresh with coconut in it most of the time.
We don't use vinegar to preserve food in our traditional cuisine and I still haven't quite acquired a taste for the rather strong and astringent taste of vinegar so I usually give it a wide berth in my pickling and preserving methods. This time, however, I decided to use vinegar (a bit judiciously though) to make a Chutney.
You will find a few recipes using figs on this blog and recently I added to my repertoire a fresh Fig Onion Chutney. Figs and onions, especially when they're caramelized, are an excellent combination as I first discovered with this pizzaand so I knew this Chutney would be good.
My husband has fallen in love with this one despite not being a fan of fresh figs, and keeps asking if there's any left in jar! It's so good that you can eat it straight out of the jar. If you'd rather be more polite, then have it on crackers or on small pieces of toast with soft cheese, or really any way you think a slightly tangy, spicy and sweet jam/ chutney should be served.
Fresh Fig & Onion Chutney
Fresh figs and onions slowly cooked together with a little ginger, allspice, coriander and black pepper till syrupy into a delicious chutney.
Ingredients
1

tbsp

oil

2

red onions

, finely sliced

1/2

kg

fresh figs(about 12 to 15 small to medium sized )

, cut into quarters

1/3

cup

Cider vinegar

(plain vinegar is fine too)

2/3

cup

powdered jaggery

2

tsps

grated ginger

1/2

tsp

salt

1

lemon

, juice and zest

1

tsp

allspice

1/2

tsp

powdered coriander

1/4

teaspoon

black pepper

, coarsely ground
Instructions
Use a heavy bottom/ thick walled pan to make the jam/ chutney. Heat the oil in it and then add the onions and saute them until they turn soft and start caramelizing. Don't let them brown too much.

Now add the figs and all the remaining ingredients. Let the mixture come to a boil and then turn down the heat and allow it to simmer. Cook, while stirring occasionally, until the figs soften and become pulpy, and the mixture turns syrupy and thick.

Turn off the heat when the jam/ chutney is done and let it cool a little. Transfer to sterilized screw top jars. It is a good idea to refrigerate them. This recipe makes 2 small to medium sized jars of jam/ chutney.