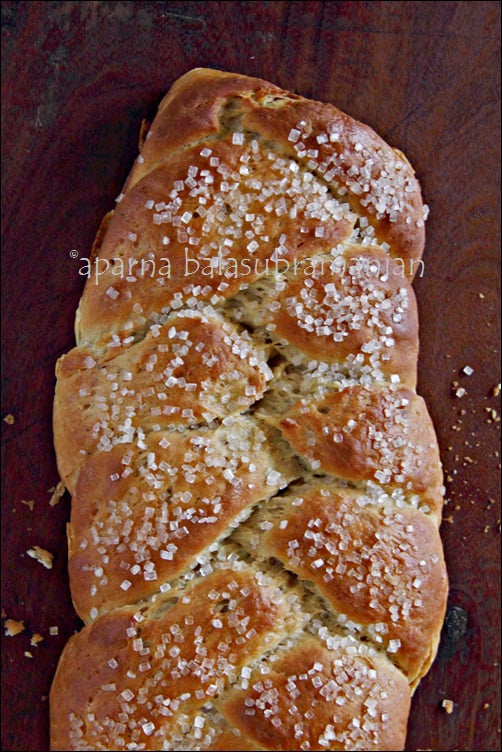 I love baking bread, even though I am only just beginning to get the hang of it. I have tried making some different kinds with reasonable success (I think). I was looking for something new to try out when I came across an announcement on Sticky Date for baking a bread with a spice (Bread and Spices). This seemed a good idea and I searched the net for some ideas. I wanted to see if I could find something different.
I finally decided on was Cardamom Bread. Cardamom is a spice that is almost always found in Indian kitchens. We use it in a lot of sweets and desserts and some regular cooking too. But cardamom in bread seemed unusual.
Cardamom bread is a sweet yeast bread of Scandinavian origin which is good served at breakfast, with coffee, or as a light dessert, according to Wikibooks. The Swedish Cardamom Bread, Finnish Pulla or Nisu and the Pakistani Taftan are some examples. Today, cardamom bread is baked in various parts of the world and is part of Christmas baking in many of them.
More information on cardamom can be found here
I decided to work with Mike Swanson's recipe but made some changes. I had run out of butter so I used oil instead. I also couldn't resist substituting some of the flour with whole wheat flour. Here is the recipe I used.
Cardamom Bread
Ingredients
3/4

cup

warm milk

2

tsps

dry active yeast

1

egg

1/3

cup

sugar

1/4

cup

oil

1/2

tsp

salt

2

cups

all purpose flour

1

cup

whole wheat flour

2

tsp

powdered cardamom

2

tsp

sugar

for sprinkling on ,loaf
Instructions
Mix the warm milk and a tsp of the sugar. Mix in the yeast. Mix and keep for 10 minutes to proof. Add all the other ingredients and knead well into a dough by hand or with a hand mixer. The dough can be a bit sticky so lightly oil your hands. Cover and keep aside to double in volume.

Then push the dough back and divide into 3 long strips and rest the dough for 10 minutes. Pinch together the strips at one end and braid, folding both ends under neatly. Place on a greased sheet, cover to prevent drying out and allow to rise (takes about an hour).

Brush with water and sprinkle the 2 tsp sugar over the top evenly. Bake at 180C for 20 minutes till the top is nicely brown.
Notes
This bread is mildly sweet, very soft and flaky with a light crust. When the bread is almost done, the lovely smell of cardamom takes over the entire house. There were only a few crumbs left a couple of hours after I baked the bread!! Need I say anything more?
This bread goes to be part of Bread Baking Day # 04 hosted by Baking History