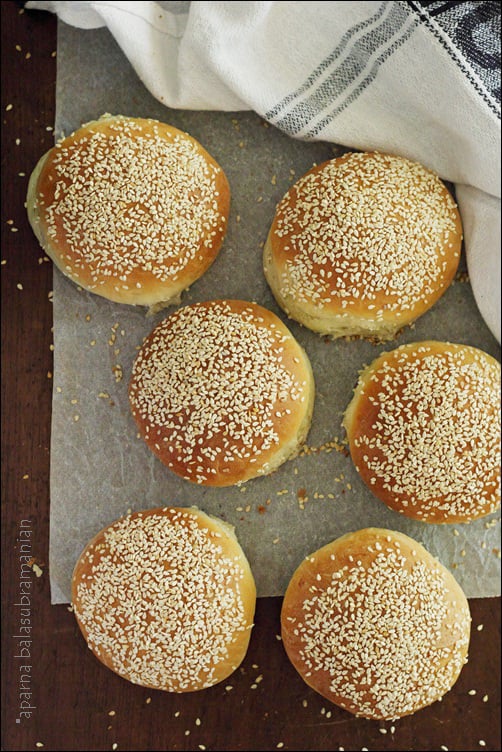 Early this month, a good friend who is also a food blogger messaged me asking if I had seen these Mexican Cemita Buns. I took a look at them and we got into discussing how good they looked and she said she felt the urge to bake them so she could make some burgers.
One thing led to another, and the next thing we knew we were adapting the recipe to what ingredients we had on hand and kneading dough. The recipe produced some really good, mildly sweet and incredibly soft buns that make pretty good burgers and Cemitas (my recipe for a Cemita sandwich shall follow in the next few posts). So we just had to share Cemita Buns on our social media and we had a couple more food blogger friends who decided to bake them right away.
Then two members of the We Knead To Bake group also saw them and asked if we couldn't bake Cemita Buns as our bread for this month and so here we are – our bread for this month are the Mexican Cemita Buns!
Mexican Cemita Buns are used to make a sandwich which is very popular in the Puebla region of the country. There they make the Cemitas Poblana, which is a sandwich is filled with sliced avocado, meat, Queso Oaxaca or Quesillo (a string cheese sold as balls) or Panela cheese (fresh cow's milk cheese), onions, a strongly flavoured almost floral herb called pápalo (supposedly a cross between arugula and coriander in flavour) and a red Chipotle sauce.
These buns may look like regular sesame topped burger buns but they're nothing like it. The Cemita, which is the name given to the bread and the sandwich made with it, is made with a brioche-like enriched dough that has a crunchy outside but is soft inside.
Kenji Lopez-Alt at Serious Eats whose recipe I adapted for my recipe, describes the Cemita as being "sweet and savoury in flavour with a dense-yet-light crumb that can stand up to stacks and stacks of toppings without disintegrating or losing its tenderness"
It's worth taking a look at the original recipe before you start baking these buns. The recipe given below is my adaptation of the original. These buns are usually made with lard or butter but Kenji Lopez-Alt uses heavy cream in his recipe since he feels it produces a softer and richer crumb.
I replaced the heavy cream with half 25% fat cream (Amul) and half milk so my Cemita Buns are a tad less richer than the original.
I've made these with 2 eggs and once with just one egg because that's all I had left. I didn't feel a big difference in the texture thought. I also left out the egg wash and used milk instead to brush the tops of the dough before baking.
I cut the sugar by half and left out the sprinkling of coarse sea salt. I also ended up using about 1/2 a cup more of flour than suggested because what we need to make Cemita buns is a sticky dough and not a wet dough which is what I had without that extra 1/2 cup of flour!
My friend baked the Buns replacing the cream with milk and 1 tbsp of butter and another followed the original recipe exactly and we were all very happy with the way our Cemita Buns turned out.
Mexican Cemita Buns
(Adapted from Serious Eats)
Mexican Cemita Buns
Sesame topped Cemita Buns are used to make Cemitas Poblana, a Mexican avocado and cheese sandwich which is very popular in the Puebla region of the country.
Ingredients
2 1/2 to 3

cups

all-purpose flour

1/2

cup

cream

(25% fat)

1/2

cup

milk

1

egg

1

tsp

instant yeast

3/4

tsp

salt

1 1/2

tbsps

sugar

Little more milk

for brushing buns

1/3 to 1/2

cup

sesame seeds

coarse sea salt

for sprinkling (optional)
Instructions
You can knead the dough by hand or machine though machine is easier because of the sticky nature of the dough. Combine 2 1/2 cups of flour, the cream, milk, eggs, yeast, salt, and sugar in the bowl of a food processor. Process until a ball of dough that rides around the blade is formed, about 45 seconds. Dough will be very sticky. If the dough seems more batter like then add a little more flour until the desired consistency is achieved. Please resist the temptation to add too much flour because the dough must be sticky and a little difficult to handle.

Transfer dough to a large mixing bowl (the recipe suggests not oiling the bowl, but I did), cover and let it rise at room temperature for about 3 to 4 hours until it is about 1 1/2 times its original size.

Flour your working surface and lightly flour the dough, then put it on your work surface. Lightly press down the dough and shape it into a thick "rope" like shape. Cut this into 6 equal portions with a scraper or knife.

Shape the balls into smooth rounds by stretching the tops to form a smooth "skin" and place them on a parchment lined baking tray, leaving a little space between them for expanding as they proof. Cover and set aside at room temperature for 45 minutes to an hour until they have risen a bit.

Brush the buns with milk and sprinkle the tops with a generous amount of sesame seeds. Very lightly press them down into the dough. Bake at 230C (450F) for about 15 minutes until they're done and the tops are a deep golden brown.

Cool them completely on a wire rack before using. These buns can be stored in a plastic of paper bag in the refrigerator for up to 1 week. Warm them slightly before using.