Vada Pav is an Indian street food from the state of Maharashtra. It is particularly associated with the city of Mumbai where it is an affordable go-to snack for many. The Vada Pav consists of a "batata vada" or a spiced potato fritter and a red spicy garlicky peanut chutney powder in a "pav/ pao" (a smallish slider style bun). It is usually served with fried green chillies, either a sweet and sour tamarind chutney or/ and a green mint and coriander chutney on the side. The fritters are gluten free as well while the whole dish  is vegan, and of course vegetarian.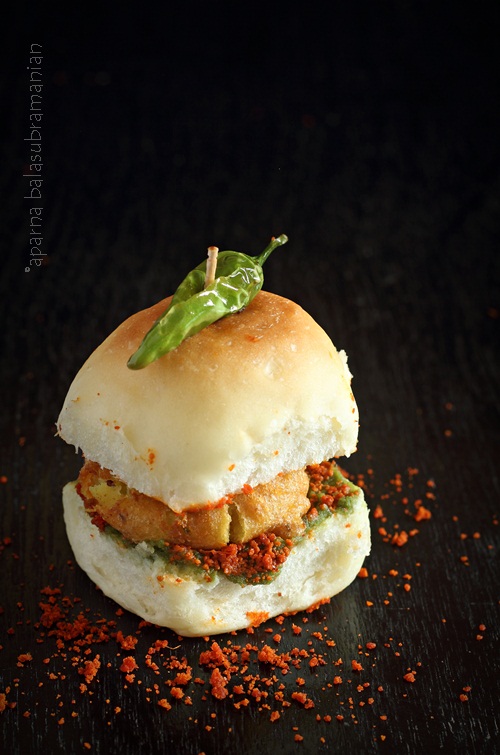 I have heard people liken the Indian Vada Pav to an Indian version of the burger. If you would call any filling placed in a bun a burger, then perhaps it could be one. Calling the Vada Pav a burger is doing an injustice to both!
The popular Vada Pav is food of the masses. Some will tell you that it was invented for the hard working mill workers of Girangaon in Central Mumbai who could afford to spend very little time or money. Some will say the Kalyan area of Mumbai was where it really started becoming popular when Yeshwant Vaze, an ex-mill worker fell on hard times. He started making and selling Vada Pav through the window of his road facing house.  Others will point you to Ashok Vaidya's snack stall at Dadar Railway station in Mumbai. Yet others might point out it was part of the Shiv Sena's attempt to establish a Marathi identity in Mumbai.
What the Vada Pav is, is a very affordable, filling and satisfying snack or even a meal. Many will not admit to this but the truth is that one cannot go very wrong with carbs within carbs. The British Chip Butty is a case in example. The Vada Pav has potatoes fried into a fritter and bread. Add an almost addicting set of spiced chutneys, and it becomes irresistible.
The best place to experience street food is on the street. However, the rains are not the best time of the year to do so. I live in a place where finding a Vada Pav, forget a good one, is like looking for the proverbial needle in the haystack. So the way out for me is to make it home.
What got me started on this was Rushina's Masala Day announcement on 2oth May. She decided to celebrate this with a "Masala Exchange" that I signed up for. What I got was an introduction to some really awesome home-made signature masalas from across the country. This post features the first of those, a Vada Pav Masala that was sent to me by Pooja Bhula. She also generously shared the recipe for her garlicky peanut chutney powder which I'm reproducing below.
It's difficult to find bakery made Pav where I live these days. So I made my own Laadi Pav. You could make your own, buy them if they're available locally. Slider buns also work well. I then made the simple spiced potato mixture. This was shaped into balls, dipped into a chickpea/ gram flour batter and batter fried till golden and crisp.
Each Pav was split in half, and smeared with a little green chutney, then sweet and sour date and tamarind chutney. I then generously sprinkled some of Pooja's aromatic masala, and topped it with a Vada/ fritter. Then I added a little bit of the brown and green chutneys over this and another sprinkling of the dry chutney.  This was topped by the other half of Pav and we were ready to eat. The fact that there was no conversation for the next 10 minutes, just chewing and finger licking and no crumbs on our plates should tell you all how good that was.
Vada Pav – Potato Fritters in a Bun
An Indian street food made of spiced potato fritters, a sweet and sour chutney, a green chutney and a dry garlicky peanut chutney in a bun.
Ingredients
Pooja Bhula's Garlicky Peanut Chutney Powder :
100

gm

roasted unsalted peanuts

1

clove

garlic

Red chilli powder to taste

Ginger to taste

optional

Salt to taste
For the Vada/ Fritter Filling :
1

tbsp

oil

1

tsp

mustard seeds

1 1/2

tsp

minced ginger

1

sprig curry leaves

1 to 2

green chillies

chopped

1/8

tsp

asafoetida

1/2

tsp

turmeric powder

2 to 3

largish potatoes

about 1 1/2 cup boiled and mashed potatoes

Salt to taste
For the Vada/ Fritter Batter :
3/4

cup

chickpea flour

besan

1/8

tsp

turmeric powder

1/4

tsp

red chilli powder

pinch

of baking soda

salt to taste

A few green chillies

Oil for deep frying
Instructions
Pooja Bhula's Garlicky Peanut Chutney Powder : Powder all the ingredients for the chutney together in the small jar of your blender till coarse and in small chunks but not pasty. Transfer to a glass jar. This can be made ahead.

Make the Vada/ Fritter Filling - Note that the mashed potatoes are alright with smallish lumps. The mash doesn't have to be smooth and creamy. It just should not have largish lumps.

Heat the oil in a wok or pan and add the mustard seeds. When they splutter, add the minced ginger, curry leaves and chopped green chillies, and sauté for a minute. Turn the heat to medium and add the asafoetida and the turmeric powder and stir a couple of times. Then add the mashed potato. Add the required salt and keep stirring everything till well mixed. Take it off the heat and let it cool to room temperature.

Once the potato mixture has cooled, shape bits of it into round balls about the size of a largish lime.

For the Vada/ Fritter Batter, combine all the ingredients in a bowl. Add a little water at a time and mix using a fork or whisk to make a slightly thick coating batter. The consistency should not be too thick but thin enough to coat the potato balls well.

Heat the oil in a wok or fryer. The oil should be hot enough but not smoking hot. Dip each potato ball into the batter and make sure it is coated well. Gently drop it into the oil and let it cook. Fry about 4 or 5 fritters at a time. Keep turning the fritters over so they brown evenly. When golden brown and crisp take them out and drain on paper towels. You should have about 8 or 10 Vadas/ Fritters.

Once the fritters have been fried, drop in a few of the green chillies in the hot oil and fry them till they blister. Be careful while doing this as the chillies can burst in the oil! Remove from the oil and drain on paper towels. You can omit this step if you prefer to.

To make Vada Pav, split each Pav or slider bun sideways into half. Smear some sweet and sour brown chutney over it and then some green minty coriander chutney next. A generous sprinkle of the dry chutney powder over which the Vada/ Fritter is placed. Add a little more of the wet chutneys and dry chutney powder. Place the top part of the Pav over this and bite in. If you can take the fire add a fried green chilli the mix. Enjoy!