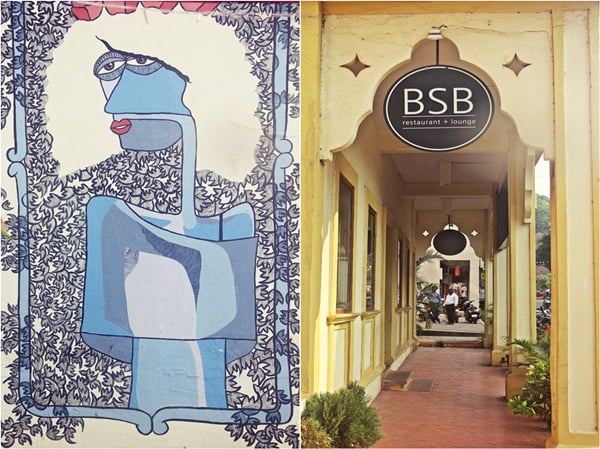 The Black Sheep Bistro, also known as BSB, is owned and run by the husband-wife duo Prahlad and Sabreen Sukhtankar. Located in a side street in an old Portuguese style mansion in the busy heart of Panaji/ Panjim, Goa's capital, BSB is all about globally inspired food created with locally sourced seasonal ingredients. Prahlad is also a certified sommelier so you can add a good selection of wine, beer and cocktails to the mix and BSB makes for a great food experience.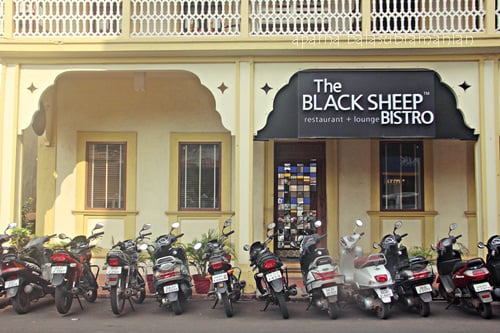 The Black Sheep Bistro has been much talked and written about since its doors opened to the public a little under two years ago, so one more review might seem a little over the top. Perhaps, but I have eaten there more than a few times and have left each time thinking that I ought  blog about it, given that they have a good number of vegetarian dishes on their menu.
I understand that the idea behind the name of the restaurant was to take from the phrase "Black Sheep" and give it the positive connotation of making the restaurant one that was different from other restaurants in term of their food philosophy and recipes. I could certainly see that in the food the restaurant serves.
For this review, I was joined by my friend who is vegetarian and a teetotaler like me so we started our lunch with mocktails – non alcoholic versions of the BSB's The Paan (flavoured with fresh betelnut leaves, lime and anise) for her and a Blush (fresh pomegranate, mint and citrus) for me.
For the starters we were served Arancini served with an Onion-Tomato Dip from a selection of what the Sukhtankars like to refer to as the "Small Bites" on their menu. They were really good. If you do eat egg, I would recommend their Caramelized Garlic Tart which is a personal favourite of mine.
We decided to give the soups a miss and had the Red Salad next. This is a Beetroot Salad which is served with red amaranth leaves, pomegranate, crumbled Feta cheese and bits of almond brittle over beetroot purée. I'm not a fan of beets by and large, but I'd be happy to order this salad the next time I'm there.
For the mains, we tried the Lebanese Kousa and the Malwani Mushroom Stroganoff. The Lebanese Kousa is a dish of Middle Eastern origin where zucchini are stuffed with chickpeas, Basmati rice, Middle Eastern spices and slowly cooked in a tomato based liquid. While this was nice and my friend liked it very much, my preference was for the Malwani Mushroom Stroganoff.
Malwani and Stroganoff in the same dish seems a little odd  at first look, because Malwani cuisine is typical of the coastal Konkan and Goan region of Western India whereas the Stroganoff is a Russian beef dish that is served with a creamy sauce. However, the vegetarian version of this dish made with mushrooms , cream and a variety of spices was surprisingly nice with rice. This is one dish that certainly embodies the BSB philosophy of "inspired globally, created locally".
Though we didn't order it at this particular meal, BSB also serves a variety of Pastas and I would recommend their Lasgane, their Penne or Spaghetti (your choice) with Basil Pesto or the tomato based Red Sauce. If you are feeling adventurous, do try their Pasta with the Spicy Chocolate Sauce – it's savoury and not sweet!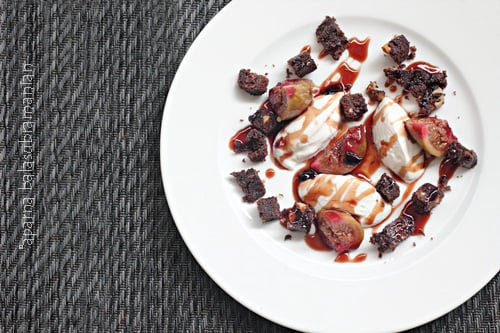 Our last course was  dessert naturally and we had two – BSB's Figgin Mess and a Strawberry Dessert. The Figgin Mess was a plated dessert of their homemade Mascarpone, wine poached figs and egg free walnut brownies with a spiced port reduction. It was quite good though I thought the brownies a bit dry.
The Strawberry dessert was a white chocolate Namelaka (Japanese for creamy) with pomegranate molasses, caramelized fennel and sugar covered anise seeds served with fresh strawberry slices.
With dessert done, we lingered a little longer exchanging stories over cups of Americano and left with a feeling of a lunch well done.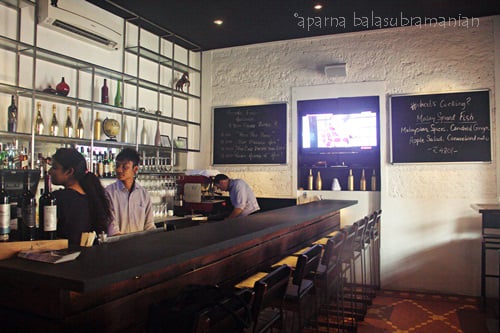 Living in Panjim (Panaji), it is heartening to know one can find quite a few good restaurants to choose from when we get the urge to eat out without having to drive the distance and brave the crowds at the more popular tourist hot spots!  The one negative that comes to mind about the location of the restaurant, especially if you're there for lunch, is that it is extremely difficult to find a parking space anywhere reasonably close. BSB is open seven days a week for lunch and dinner.
Address : Swami Vivekanand Road, next to ICICI Bank, Panaji, Goa 403001.
Please note : The information in this post was current at the time of writing it, and may have changed since.
Disclaimer : This review was done on an invitation from the Black Sheep Bistro. Due judgement has been applied and I have done my best to remain objective and unbiased while writing this review. This review is my personal opinion so please exercise your own discretion.