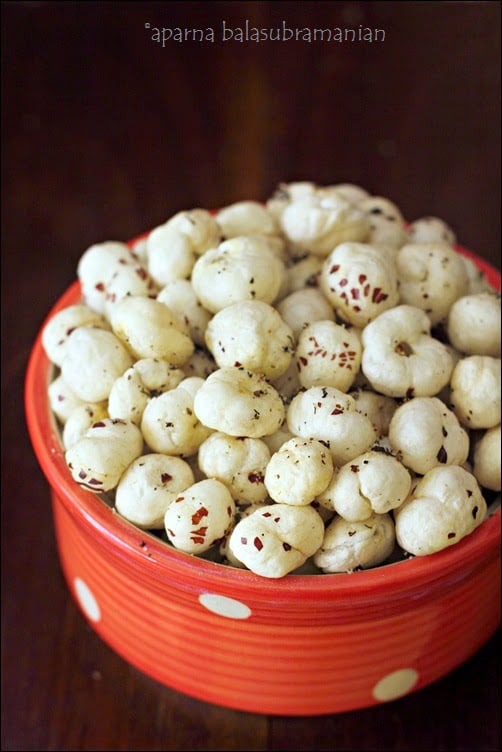 Makhana, that's what the label on the packet said but that didn't make any sense to me. I was shopping for groceries at the local supermarket when I came across this packet of off-whitish round little balls flecked with brown. I had never seen this stuff before, but seeing that it was edible and not very expensive, I decided to pick up a packet.
Once I was home, a search on the net and some advice from a friend revealed that this was what was popularly known in India as "lotus seeds", and is a much loved food ingredient in certain parts of India like Bihar, Assam, West Bengal, Orissa, Manipur, Jammu Kashmir and Punjab. Some more searching for recipes revealed that it could be roasted to make a snack that was much like popcorn, or else it could be cooked into a kheer or even a curry.
Frankly, I know very little about Makhana and whatever I'm including in this post is what I have gleaned from the net. I'd be happy if anyone could tell me more about it.
Makhana are actually the edible starchy white seeds of a perennial aquatic plant native to Eastern Asia and scientifically called Euryale ferox. This plant is native to eastern Asia, and is found not only in India but also in Korea and Japan, and parts of eastern Russia. Though the plant grows wild in ponds, they are cultivated in Asia as a food crop and the seeds are harvested in the late summer and early autumn.
The Euryale ferox is classified as belonging to the water lily family Nymphaeaceae, whereas the Lotus flower belongs to the Nelumbonaceae family of flowers and both are not even remotely related to one another. So even though they are referred to such, Makhana are definitely not lotus seeds (which can also be similarly eaten but are different), and also known as Fox Nuts or Gorgon Nuts.
In India, two very popular preparations with these seeds are the savoury roasted Makhana and the sweet rice pudding-like Makhana Kheer. For me, the most obvious choice was to go the savoury way. When pan roasted over a low to medium heat, the normally chewy Makhana becomes really crisp and almost popcorn like in texture.
As far as I'm concerned, I'd pick these over popcorn any day! My only problem now is that I don't always get Makhana at my local stores, so I cannot have this whenever I want it. Pan raosted Makhan makes for really great snack because it is relatively guilt-free yet is perfect to satisfy that craving for something savoury and crunchy, when it hits.
Roasted Makhana takes very little time and effort to make, and once made, can be stored to be eaten whenever needed. This keeps well for a couple of weeks so long as it is in an airtight container.
They can be seasoned with spice mix of choice. I chose to season mine with just a little asafoetida, salt and crushed black pepper. You could use any spice mix of your choice, for example turmeric and red chilli powder with cumin or maybe add some chaat masala instead.
Serve it with tea or coffee as a snack or even with a long cool drink.
Phool Makhana/ Roasted Makhana
Phool Makhana/ Roasted Makhana (Puffed Fox Nuts/ Lotus Seeds)
M.
Ingredients
1/4

tsp

asafoetida

to taste

Salt pepper

and freshly crushed

2

sprigs

curry leaves

(optional)
Instructions
Heat the oil in a wok or pan and add the Makhana and the curry leaves, if using. Dry roast / toast them on low to medium heat, while stirring frequently, for about 5 to 10 minutes until they turn crisp. This is where taste testing is important, but resist from eating most of out of the pan.

Add the asafoetida, pepper and salt and stir well to mix. Keep in the pan for another minute or so and then transfer it to a tray and let it cool. Then transfer it to and airtight container and store till ready to serve.