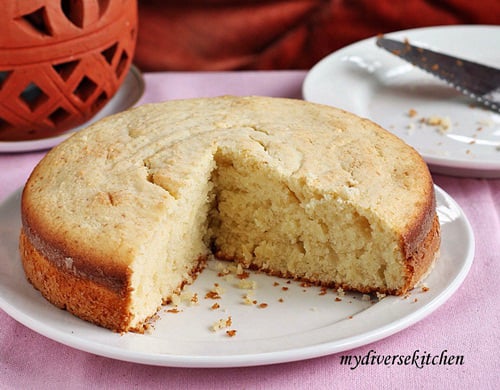 Despite the number of cakes there are on my blog, I'm not really very fond of cakes. They're eaten mostly by my family and friends who are always ready to eat cake. I avoid frosted cakes as I do not like buttercream, and though I love chocolate, I'm not overly fond of chocolate cakes. If I must eat cake, then I prefer plain vanilla or lightly citrus flavoured cakes.
For someone who isn't very fond of cakes, it's rather odd that a pound cake has been on my mind for a long time now. There's something irresistible about the pale yellow, light, moist looking crumb and golden brown crust of that cake.
The pound cake gets its name from the fact that a pound each of sugar, flour, butter and eggs go into making it. Now that's a little too much butter and eggs for me. The eggs we don't really like, while that much butter is something we (my husband and I, at least) can do without.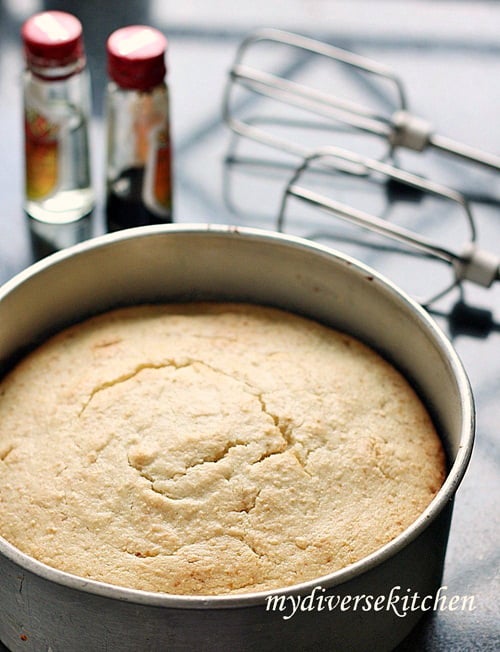 Yet I couldn't get that pound cake off my mind. A couple of months back (that's how long it has taken me to post this cake!), I had made some paneer and left it to drain on the kitchen counter. While I was waiting, I thought I would try to start on my reader which bursting at the seams with unread posts. Given that I don't have a lot of time to spare these days, visiting my favourite blogs seems to have taken a back seat. I just don't seem to be able to catch up.
It was a link on one of those posts (I don't remember which one) that took me to a ricotta pound cake. I remember that the ingredient list included 2 sticks of butter (that's about 230gm of butter!) and 5 eggs. That beautiful cake, however, just brought back my pound cake obsession. When a food obsession gets this bad, I've found the sensible thing to do is to give into it.
All the recipes I came across seemed to need a minimum of 1 1/2 sticks of butter. I guess that would be necessary to keep the ratios of ingredients necessary for a pound cake. I still couldn't bring myself to use that much of butter.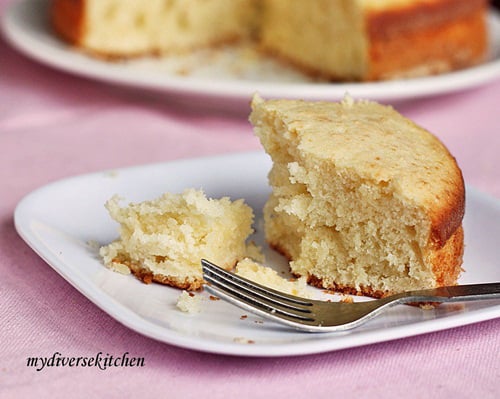 Ricotta isn't available here but paneer is almost like it, and I did have fresh crumbly paneer in the kitchen. Since paneer would add to the texture of the cake, I decided to reduce the butter a bit and use just one egg. I guess this means that my cake is no longer a blue-blooded pound cake, but I can live with that.
The result was a wonderfully light and moist cake which just disappeared in no time. In fact, I got these pictures only when I the cake again. I can guarantee that this is a cake you will want to make again and again. I, for one, am not even looking for another pound cake recipe, unless there's something so very unusual about it.
Please do not try this cake with store bought paneer (the slab or cubes) as it would be too dry. If you have access to store bought ricotta, that's good, otherwise making your own paneer/ ricotta is worth doing for this cake. It doesn't take much time or effort.
I made my paneer at home using milk with 2% fat. 1 litre of milk should give you about 1 1/4 to 1 1/2 cups of paneer. To make paneer/ ricotta for this cake, boil 1 litre of milk (I used 2% fat). Once it has started boiling, turn down the heat to low so the milk is simmering. Add 1 to 2 tsps of fresh lemon juice (or white vinegar) and keep stirring till the milk solids separate completely.
Take the curdled milk off the heat and allow it to cool a bit, for about 15 minutes. The pour this into a strainer lined with a thin cotton kitchen towel. Allow the paneer to drain for about 20 minutes. Rinse the paneer a couple of times in clean running water and allow to drain again. Press the liquid out lightly. The paneer should have drained well but be crumbly and moist to touch.
Paneer/ Ricotta Pound Cake
Despite the number of cakes there are on my blog, I'm not really very fond of cakes. They're eaten mostly by my family and friends who are always ready to eat cake. I avoid frosted cakes as I do not like buttercream, and thou
Ingredients
3/4

cup

cake flour

1 1/2

tsps

baking powder

60

gm

salted butter

3/4

cup

paneer ricotta

drained fresh or

3/4

cup

sugar

granulated

1

egg

1

tsp

lemon juice
Instructions
Sieve the cake flour and the baking powder together. Keep aside. Run the paneer in the blender till it becomes a very smooth paste.

Put this paneer and the butter in a bowl and, using a hand held mixer, beat well till smooth. Add the sugar and beat till light and fluffy. Scrape down the batter from the sides of the bowl in between.

Add the egg and vanilla extract and beat till well mixed. Now add the flour and beat on medium speed till smooth. Add the lemon juice and beat again. The batter might look like it has curdled slightly, but thatu2019s alright.

Pour the batter into a greased and floured 8u201d (or 9u201d) cake tin and bake at 180C (350F) for about thirty minutes or till the cake is a done and a skewer inserted into it comes out clean.

If your paneer/ ricotta was a bit wet to start with, it might take another 10 minutes or so of baking to cook the cake. Cool the cake in the tin for 5 minutes and gently take it out and cool on a rack. Enjoy your cake.