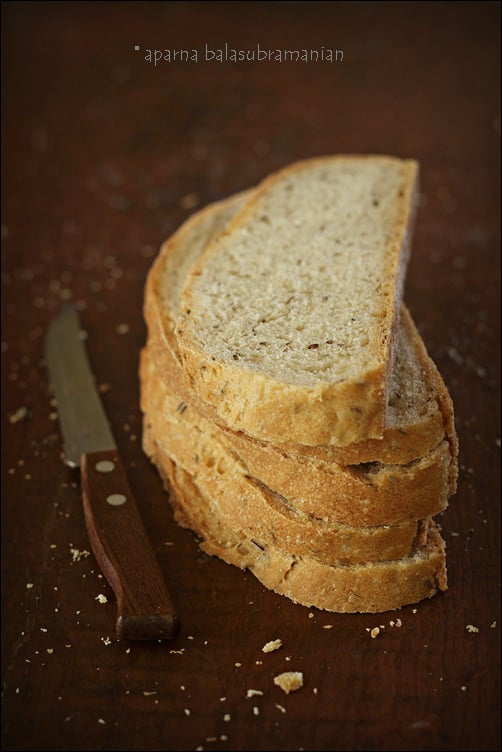 Today, let's make New York Deli Style Rye Bread. Some time back, fellow blogger and friend Samruddhi got me some rye flour from abroad and I've since been looking for a good bread recipe to put the flour to good use with. We don't get rye flour in India unless it's imported and sold through specialty gourmet stores at insensibly expensive prices.
After a rather unsuccessful couple of attempts at baking rye bread from a recipe I found online, I asked a couple of friends for tried and tested recipes, and one of them actually translated a recipe from German for me! A close friend who is also an awesome bread baker gave me her recipe but it just didn't turn out right for some reason. I'm no expert bread baker but I can turn out a reasonably decent bread yet I have been defeated again and again by something as simple as a rye bread! Or maybe making a rye bread isn't so simple a process because I don't doubt my friend Finla's baking skills or her recipe.
By now, I had just half the bag of rye flour left and I was determined to make at least one good rye bread before I ran out of flour! I came across Rose Levy Berenbaum's recipe for a New York Style Deli Rye Bread in her Bread Bible and it seems to also come highly recommended by quite a few food bloggers. So I decided I would give the recipe a try out, in the hope that this was "the" recipe that would work for me, and I'm happy to report that it did!
For most of us in India, rye is something we haven't heard about or seen. However, rye is a bread grain that is almost as popular as wheat in many European countries including Germany, Poland, Russia, the Czech Republic, Austria, Italy, and France.
Rye flour is usually used in combination with wheat flour, in varying proportions depending upon the recipe, to make bread. The higher the percentage of rye in the loaf, the denser it will be in texture.
I understand that a properly made rye bread should have a firm yet light texture. Rye bread can be baked plain though it is usual to add toasted nuts, caraway or flax seeds, dried fruits, etc in small amounts to add flavour.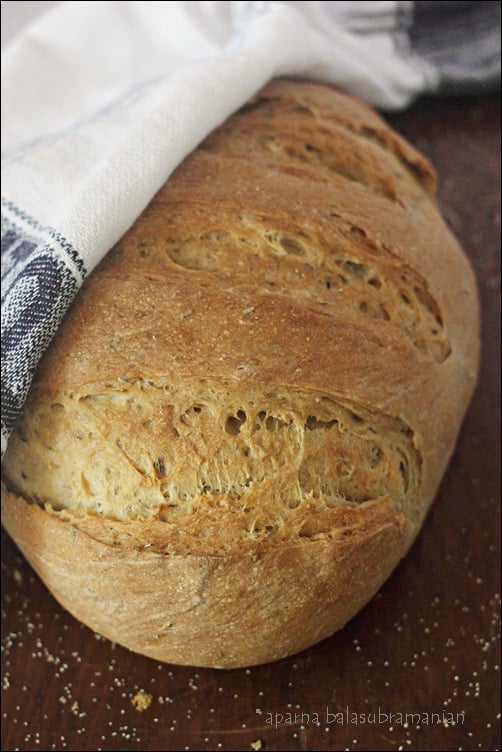 My research tells me that New York rye bread is a type of rye bread baked and made famous by the city's Jewish community who migrated from Europe and settled there. The New York Style Deli Rye Bread uses a higher proportion of wheat flour to rye flour making it lighter in texture, just the kind of bread I thought I might have success with and might be welcomed by my family since we're not used to the strong flavour of rye flour.
Berenbaum's recipe uses bread flour rather and no whole wheat flour at all, so it makes for an even lighter texture.
This bread is easy enough to make, but it does take most of a day to do it since there is a 3 to 4 hour wait for the sponge to activate, and then two separate rises before the loaf is shaped for the final rise and then is then baked. It took me even longer, but just after the first rise I had to step out unexpectedly. So I stuck the dough into the fridge where the second rise happened and it was late evening before I baked the bread which I had started on at 7.30 in the morning!
All considered, the bread turned out quite well, though you can see from my photographs that I have a long way to go to perfect my dough slashing. I personally like the taste of caraway seeds in bread and I feel it makes this bread taste better, but feel free to leave it out if you don't like it.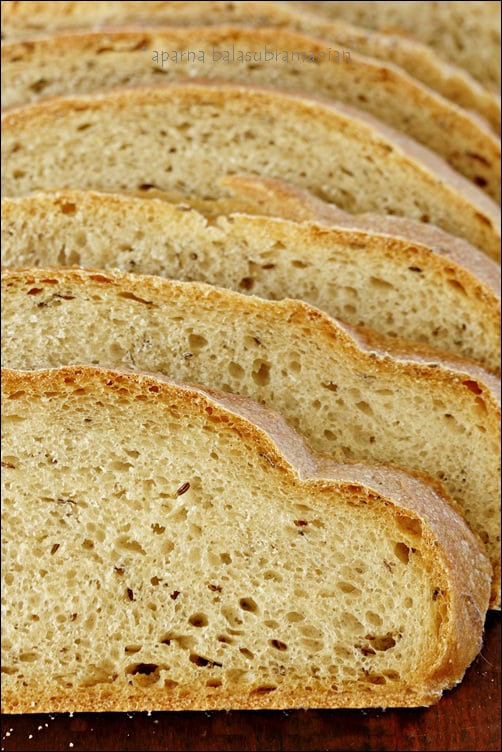 I'm guessing a rye bread should be more about the rye than anything else, but the reason I liked Rose Levy Berenbaum's recipe for the Jewish New York Deli Rye Bread was that the flavour of rye was subtle and of course, that it baked well for me! This recipe makes a nice largish loaf of bread that can be used to make sandwiches or toast.
The Bread Bible also lists ingredients by weight so if that's the way you bake do check the original recipe. I find it easier to measure by volume and this works for me in most cases, as in my experience most traditional recipes work by proportion and there are always adjsutments made where one goes by feel of the dough.
Adapted from The Bread Bible by Rose Levy Berenbaum
New York Style Deli Rye Bread
New York style Deli Rye Bread for excellent sandwiches. It uses a higher proportion of bread flour to rye flour making it lighter in texture.
Ingredients
For the Sponge:
3/4

cup

bread flour

3/4

cup

rye flour

1/2

tsp

instant yeast

1 1/2

tbsps

honey

1 1/4

cups

water

, at room temperature
Remaining Ingredients for the Dough:
2 1/4

cups

bread flour

(a little more or less if required)

3/4

tsp

instant yeast

1 1/2 to 2

tbsps

caraway seeds

1 1/2

tsps

salt

1

tbsp

oil
Instructions
First make the sponge. Combine all the ingredients for the sponge in a large bowl and whisk until a smooth and thick batter results. The idea is to incorporate air in the batter. Keep aside. If you're using a mixer or a processor to knead your dough, you can do this in the bowl of the machine you'll have one bowl less to wash up.

In another bowl, lightly whisk together the remaining dry ingredients except the oil and the gently sprinkle all of it over the sponge such that the sponge is completely covered by the flour mixture. Cover the bowl with cling wrap and leave this to ferment at room temperature for between one and four hours (I let it sit for 3 hours). You will find that the sponge would have bubbled up through the flour mixture in places.

When ready to knead the dough, add the oil and knead until the dough is very smooth and elastic. If the dough seems quite sticky stop the machine in between and let the dough rest for about 15 minutes. Then start kneading again, adding a little flour (not too much) if required. When the dough is of the correct consistency, if pressed with a fingertip, the dough should be springy and "jump" back. If it feels sticky, turn it out onto your counter and knead in a little extra flour.

Put the dough in a large oiled bowl, turning it well to coat with oil. Cover it and let it rise until double in volume. This should take about 1 1/2 to 2 hours. When done, turn the dough out onto a lightly floured counter and press it down gently. Fold it and shape it into square-ish shaped ball (this is an easier shape) and put it back into the bowl after re-oiling, this time for about 45 minutes. (I ended up doing this rise in the fridge for almost 3 hours because I had to step out unexpectedly!)

When this is done, turn out the dough onto a lightly floured counter and gently deflate the dough. Then shape it into a round or oblong ball and place it on a sheet lined with parchment or dusted with cornmeal or semolina. Loosely cover and let it rise until almost double in volume. This should take about an hour or so. When you gently press the dough with a fingertip, the depression should fill out slowly. If it springs back quickly, let it rise for a little longer and check again.

If you have a bread stone place it to preheat in the oven, otherwise use a baking sheet. Preheat your oven to 230C (450F).

To slash and bake the bread: With a sharp knife or singled-edged razor blade, score 1/4- to 1/2-inch-deep slashes in the top of the dough. Spray the top of the dough with a fine mist of water and quickly but gently place the dough on the baking sheet/ stone in the oven.

Bake for 15 minutes and then turn the heat down to 200C (400F) for another 30 minutes or so, until the bread is done, golden brown and sounds hollow when tapped on the bottom. Let the bread cool down completely before slicing.