One thing I really like about a lot of traditional food, and this is true across the world, is that their names are pretty straight forward (especially if you know the language). In those days, people named dishes as they saw them, no fancy stuff. By and large, once you heard the name of a dish, you pretty much knew what it was!
My post today is about the neiyappam. This south Indian preparation is an "appam" (this refers generally to dumplings, steamed or deep fried) cooked in "neyy" (which is ghee), hence the name "neiyyappam"! See what I mean?
The neiyappam is very much a part of Palakkad Iyer festive fare and is one of the few sweet preparations that is made during festivities as well as religious or ritualistic celebrations. Most other festive preparations are usually linked to, and prepared for particular festivals.
This deep fried dumplings are also offered as "prasadam" (food offered to God and then distributed to devotees) in many temples in Kerala.
What the Palakkad Iyers call neiyappam, is known as "Unniappam" in Kerala and "Vella Paniyaram" in Tamilnadu.
In Kerala, the neiyappam is made by pouring ladles of a similar batter directly into ghee and deep-fried as a slightly larger flattish cake. Whereas the unniappam (our neyappam) is made by pouring a little batter into the depressions of a special pan called the "appakaaral" which looks like an aebelskiver pan.
So I guess one could refer to the neiyappam as a south Indian aebelskiver!
On an aside, I recently read here (and I didn't know this even though we lived in Cochin!) that the Jewish community in Cochin makes a version of neiyappam for Hanukkah.
Again, like a lot of traditional food that I know, the neiyappam doesn't really score in the "looks" department. A dark brown, almost burnt looking ball doesn't really inspire love at first sight but don't let appearances deceive you.
Give the neiyappam a chance and you will discover that the unattractive crusty exterior hides a delightfully soft and spongy cardamom flavoured interior dotted with thin coconut slivers. On a personal note, neiyappam is not one of my favourites and yet I am recommending it here because I have so far never met anyone else who doesn't like them. In fact, I mostly have always witnessed scenes where everyone is fighting to get the last few ones left in the tin!
I have no idea how old this recipe is but I do know that people have been making neiyappams for generations. This recipe was given to me by my mother who got from her her mother.
In fact I remember watching my maternal grandmother making neiyappam. Even though there was a gas stove in the kitchen, she used a small kerosene stove (haven't seen these in some time now) to make the neiyappams. This was probably because it was easier to clean up oil splatters or dripped and dried batter spots!
The kerosene stove was kept on the floor in a corner of the kitchen, near the window. My grandmother had a small, low three-legged stool which only she used and she would sit on this and the "appakaaral" would sit on the stove.
Though I don't like neiyappam, I remember being fascinated by the batter bubbling in their little puddles of ghee-sesame seed oil and watching the batter slowly oozing from the tops of the neiyappams as they cooked.
On asking, I also remember being told that the oozing batter meant that all was well in the neiyappam world and they would turn out just right! And it's true, though the oozing batter does even less for the already sad appearance of the neiyappam, it really makes all the difference in the texture.
You will find many recipes which use a bit of black gram lentils (urad dal) to make these dumplings, but this recipe below is how they're traditionally made at home.
A banana is added to increase the flavour and softness of the neiyappam, but this means that it will spoil after a couple of days. Since we usually make smaller quantities at home, there are rarely any leftovers.
These can also be made without the banana, but the dumplings will be less spongy in texture.
Neiyappams are really not too difficult to make. They just need a bit of practice, and of course an "appakaaral" or an aebelskiver pan.
My "appakaaral" is somewhat of a family heirloom as it was given to me by my mother-in-law, who was given it by her mother-in-law. It is made of bell metal and weighs 2 kg which means it is quite heavy.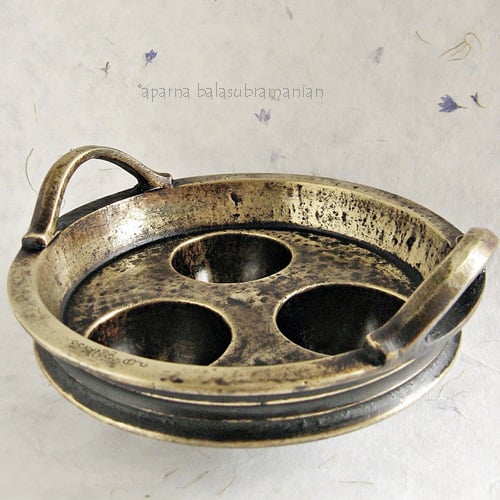 But these were made this heavy so that once the pan got heated it would retain that temperature for a long time ensuring uniformly well cooked dumplings which would never stick to the pan. Of course this was in those days when cooking was done using firewood and stove temperatures were difficult to adjust.
The weight also meant that the pan was stable and unlikely to tilt, an important consideration given that it contained very hot oil/ ghee. Lighter pans, even of the non-stick variety, with more depressions (mine has only three) are available in stores today.
Neiyappam - Deep Fried Rice And Jaggery Dumplings/ South Indian Aebelskivers (GF)
One thing I really like about a lot of traditional food, and this is true across the world, is that their names are pretty straight forward (especially if you know the language). In those days, people named dishes as they saw them, no fancy stuff. By and large, once you heard the name of a dish, you
Ingredients
1

glass

raw rice

3/4

glass

jaggery

powdered

1

banana

small

4

pods

cardamom

2

tbsps

coconut

thinly slivered pieces

ghee sesame seed

and oil for deep frying
Instructions
Soak the rice in water for about 3 hours. In the meanwhile, dissolve the powdered jaggery in half a glass of water. If there are impurities in the jaggery, decant the solution.

Drain the water from the rice and grind the rice to a smooth paste/ batter using the jaggery solution. If the batter is too thick and difficult to grind, add just enough water as and when required.

Chop the banana into 3 or 4 pieces, and add them along with the seeds from the cardamom pods to the batter. Grind some more till everything becomes a smooth batter.

The batter should have the pouring consistency of pancake batter. After the grinding is done, add the coconut slivers to the batter.

Place the "appa kaaral"/ aebelskiver pan on the stove and pour equal amounts of ghee and sesame seed oil (about a tbsp of each) into each depression. Each depression should be half full.

Wait until the oil-ghee mixture is hot and then turn down the heat to medium. Pour small ladlefuls of batter (enough to half-fill each depression) into each depression. The batter will sink to the bottom of the depression and the fat will rise and some will overspill into the pan. This is fine as it will ensure that the top part of the neiyappam also gets cooked.

As the neiyappams cook, you might start seeing batter ooze up from inside through the top. This is normal and desirable, as I mentioned before, (though not pretty, perhaps) as it means they're cooking well!

With a well seasoned/ non-stick pan, the neiyappams will slightly pull away from the sides of the depression as they cook and float up. Turn them over, using a fork so that the top of the neiyappams are now in the depression and can brown as well. If they don't float up once they have cooked and the undersides are browning, gently coax them using the fork. Too much pressure may cause the neiyappams to break.

Once the neiyappams are browned both on the bottoms and tops, remove them from the pan using a "pappada kuchi" (a metal skewer used for frying pappads) or a pair of forks/ tongs.

Allow them to drain well on paper towels. These dumplings tend to remain a little oily even after they've drained on the towels.

Cool them to room temperature. They're now ready to eat. These keep for a couple of days after which they spoil, but stay a little longer (but become hard) if refrigerated. If refrigerated, you can soften them by steaming/ microwaving them for a couple of minutes before serving.

They are my contribution to Meeta's Monthly Mingle, being hosted at Jugalbandi this month