This is a recipe for My All-Purpose Marinara Sauce. When I first started making pasta at home regularly, you couldn't get Marinara Sauce at the stores. Now it is available, it is quite expensive. Even the local brands aren't very affordable. More so when you know you can make at home very easily. Especially in India where you get fresh tomatoes the year round.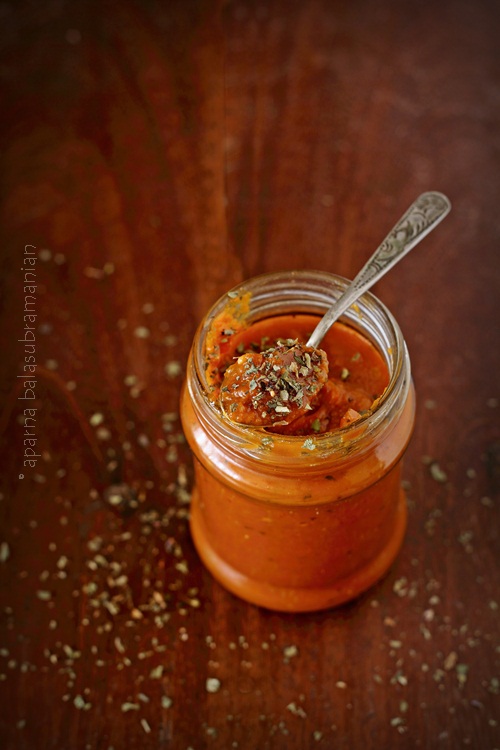 My All-Purpose Marinara Sauce recipe is the result of tweaking it over the initial years. It is now my go to recipe. I like adding green bell pepper/ capsicum to my Marinara Sauce. While this is not traditional, I find it adds an interesting flavour to my pastas and pizzas.
This is a red Italian sauce that is made with tomatoes, onions, garlic and herbs. Easy to cook, my version is a bit spicier than most tomato based sauces. This sauce is perfect for Italian dishes like pasta, calzone and can be used as sauce for making pizza.
Marinara sauce is thought to have its origin in 16th century Naples in the sailor community. The name Marinara sauce can be loosely translated as "sauce of the sailors" and is believed to come from "marinaro", the Italian word for "seafaring." The very high acid content from the tomatoes and the cooking down of this sauce ensured that it did not spoil very easily in an age where refrigeration was unknown.
My version of Marinara which may not be authentic because I also add a bell pepper to the mix. My version is an all-purpose sauce which I use to serve with pasta and calzone, use as a pizzasauce and wherever else an Italian tomato sauce would do well. I make these in large quantity and then freeze it into single use portions so that I almost always have this handy to use. almost always have in my fridge as I make large quantities and freeze it in smaller portions.
My All-Purpose Marinara Sauce
My version of an all-purpose marinara sauce that's easy to make. It can be cooked in large batches and be frozen for later use.
Ingredients
1/2

kg

pureed tomatoes

3

(200g) packs

tomato puree

2 - 3

onions

1/2

tsp

garlic paste

(more if you prefer)

1

large green bell pepper/ capsicum

3

heaped tsps

sugar

(more or less depending on tartness of tomatoes)

1 1/2

tsps

kashmiri chilli powder

1

tsp

Italian seasoning/ mixed herbs

3

tbsps

oil

to taste

salt
Instructions
Chop up the onions and capsicum and blend to a paste with garlic paste.

Heat the oil and fry this paste till the raw smell of onion disappears. Then add both the tomato purees and all other ingredients, except the seasoning, and stir well. Allow to come to a boil and then turn down the heat.

Cook till quite thick, stirring occasionally. When almost ready, add the seasoning. Cook for another 2 minutes and the sauce is ready.

Cool and bottle. This keeps in the fridge for 7-10 days. This sauce can also be divided into smaller single portions and frozen.