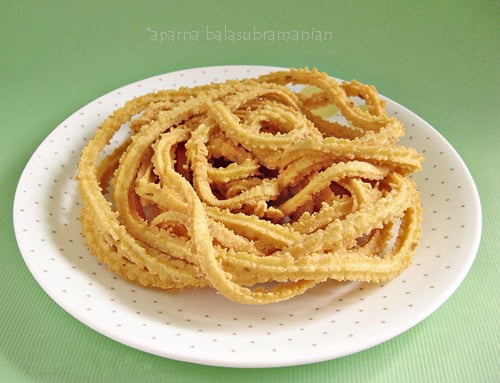 Diwali, to those who celebrate it, conjures up images of lit up oil lamps at dusk and enthralling fireworks displays in the dark sky. It also means plenty and plenty of sweets! In Palakkad Iyer homes, we also make traditional savoury snacks like murukku, pokkuvadam, thengozhal, muthusaram, etc.
This Diwali, my choice of a savoury snack was muthusaram. Muthusaram (also referred to as "mullu murukku" by some) is made from a rice flour-chickpea flour dough which is pressed out through a special press (called naazhi) with a plate with star shaped holes. The dough is pressed out into hot oil by moving the press over the oil in circular clockwise motion leading to nest shaped muthusaram, and fried till a golden brown. To my mind, muthusaram resembles an intricate Rajasthani turban
When we were children, many of these sweets and savouries were made only during festive celebrations or our school summer vacations. Summer vacations meant kids in the house, who were always hungry.
Those were the days when families meant large number of people at home unlike nuclear families of today. It also meant that appliances like mixer/ grinders, fridges and all those appliances that we take for granted today, didn't exist in our grandmothers' kitchens.
I remember how rice flour was powdered in my maternal grandmother's kitchen. I must have been about 11 and back then, powdering rice to make flour took up the better part of day. My grandmother's "Woman Friday" was a lady called Kamalam, and she usually helped out with the household chores.
First of all rice would be soaked for a couple of hours, drained of all the water, and then spread out on cotton cloth, for a couple of hours more, to dry some more.
Then a small amount of the rice would be place in the hollow of large granite mortar called an "Ural" which was placed on the floor. This was pounded using a pretty heavy wooden pestle (amost as tall a person) called an "Ulakka".
The pounding would be done by dropping the pestle into the hollw of the mortar, with one hand, with enough force to crush the rice. As soon as the pestle hit the rice, it would be picked up with the other hand and then dropped again in a synchronized and repetitive motion, till the rice was crushed enough.
Then the powdered rice would be sieved to separate the fine flour from the coarser grain. The coarse grain would go back to be pounded or be used for dishes. As a kid, there was something very exciting about all this activity with a rhythmic muted "whoomph" of the pounding in the background. It was equally fun trying to be a part of all this without getting scolded for complicating the process with my attempts to "help"!
It is only now that I am older, and have the options of powdering my own rice flour in my mixer/ grinder in about 10 minutes or buying it readymade from the store, that I truly appreciate how much effort went into those snacks/ sweets that we demanded and enjoyed so much. I think I also now understand why they were made only during special occasions!
This recipe for muthusaram is one that my mother used, which she got from her mother. In fact, I wrote down this recipe, along with some other traditional recipes, during one of my visits to my grandmother. She found it amusing that I wanted measures in "cups and spoons", as she used to cook by intuition rather than by measuring like most women of her generation.
[wpurp-searchable-recipe] – Diwali, to those who celebrate it, conjures up images of lit up oil lamps at dusk and enthralling fireworks displays in the dark sky. It also means plenty and [plenty of sweets](http://mydiversekitchen.blogspot.co – fine, chickpea flour, unsalted butter, cumin seeds, asafetida, salt, sunflower, Mix all the ingredients (except the oil) with just enough water to make a dough that is more stiff than soft. This dough will not have the elastcity of dough made with whole wheat or all purpose flour. Too much water will result in a lot of oil absorption during deep frying, which is undesirable.; Heat the oil in a deep and somewhat flat bottomed pan. In the meanwhile, lightly coat the plate (with star shaped holes) and the inside of your press with oil. Put a portion of the dough into the press.; When the oil is hot, turn the heat down to medium and press out the dough directly into the oil in a circular clockwise motion about three or four times. This ensures that the dough falls in circles, forming a sort of bird's nest shape.; Let the "muthusaram" cook for about a minute, then slowly turn it to the other side with a slotted spoom, ensuring the it keeps its shape. Fry till golden brown on both sides. Drain the "muthusaram" on paper towels.; Store in an airtight container. Before serving, break up the "muthusaram" into smaller pieces. This recipe makes enough for quite a few people to munch on with tea/ coffee.; This pot is off to Manisha for her IFR: Memories; [/wpurp-searchable-recipe]
Muthusaram - Traditional Rice & Chickpea Flour Crunchy Snack (GF)
Diwali, to those who celebrate it, conjures up images of lit up oil lamps at dusk and enthralling fireworks displays in the dark sky. It also means plenty and [plenty of sweets](http://mydiversekitchen.blogspot.co
Ingredients
2

cups

rice

fine powder

1

cup

chickpea flour

(besan)

2

tbsps

unsalted butter

1 1/2

tsps

cumin seeds

, lightly crushed

1/4

tsp

asafetida

powder

to taste

salt

rice bran

sunflower / oil blend for deep frying
Instructions
Mix all the ingredients (except the oil) with just enough water to make a dough that is more stiff than soft. This dough will not have the elastcity of dough made with whole wheat or all purpose flour. Too much water will result in a lot of oil absorption during deep frying, which is undesirable.

Heat the oil in a deep and somewhat flat bottomed pan. In the meanwhile, lightly coat the plate (with star shaped holes) and the inside of your press with oil. Put a portion of the dough into the press.

When the oil is hot, turn the heat down to medium and press out the dough directly into the oil in a circular clockwise motion about three or four times. This ensures that the dough falls in circles, forming a sort of bird's nest shape.

Let the "muthusaram" cook for about a minute, then slowly turn it to the other side with a slotted spoom, ensuring the it keeps its shape. Fry till golden brown on both sides. Drain the "muthusaram" on paper towels.

Store in an airtight container. Before serving, break up the "muthusaram" into smaller pieces. This recipe makes enough for quite a few people to munch on with tea/ coffee.

This pot is off to Manisha for her IFR: Memories