The cuisine of the Indian sub-continent consists of a wide variety of unleavened flatbreads and the Thepla is one of them. Theplas are thin flatbreads from the western Indian state of Gujarat which is famous for its vegetarian food. I have never been to Gujarat and it has long been a dream of mine to travel through Gujarat and sample the local fare!
Though I've not been to Gujarat I have eaten a lot of good home cooked Gujarati food in my time. I've been lucky enough to have had a very good friend when at University who is Gujarati. I used live in the student accommodation on campus and let's just say I was lucky in two ways being a vegetarian in a predominantly non-vegetarian country where vegetarianism was something most people weren't aware of.
One was that my parents lived pretty close by and I used make it home most weekends.
The other was that my friend's father taught at the University and they lived in faculty accommodation on campus. That meant that her home was walking distance from my hostel and you would find me there often feasting on the Gujarati food cooked her mother made. She was an excellent cook, by the way.
Getting back to Theplas, this flatbread is one of my favourites. Gujrathis traditionally like to carry their food with them while setting out on journeys which is not a bad thing at all considering that a large percentage of them are pure vegetarians and some of them do not even eat onions or garlic. By carrying their food with them, they're always prepared in a situation where food they eat is otherwise not available.
Traditionally, the Thepla is also an extremely popular travel food item and not just because it tastes so good, but because it keeps well for a couple of days easily. I have plenty of memories of travelling both by train and plane, and having fellow Gujarati travellers opening their bags at meal times, digging out a variety of food and being very generous at sharing it with their fellow passengers.
Theplas can be made plain or with flavour additions. Plain Theplas or "Sada" Theplas are the most basic kind of Theplas and are usually made using only whole wheat flour, a little yogurt and flavoured with a little salt, turmeric powder, asafetida and chilli powder. The variations in Theplas come from the addition of spices like cumin or garam masala, or vegetables like bottle gourd (lauki) or grated carrot or Daikon radish (mooli), fenugreek greens (methi) or coriander leaves (dhania), etc. Theplas are cooked on high heat with a little bit of oil, so they're cooked quickly but remain soft without becoming crisp.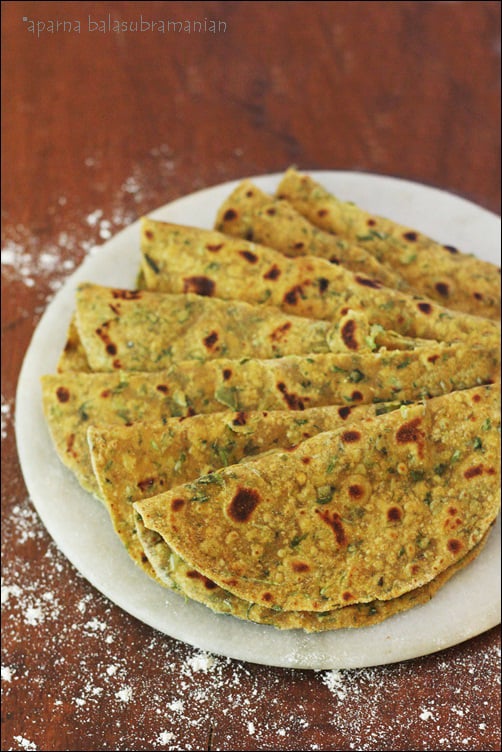 I personally love the taste of chickpea flour (known as "besan" in Hindi) and so tend to add a little bit of it to the wheat flour when I make my Theplas with it. Fresh fenugreek greens/ leaves are available in India aplenty so I make my Theplas with them more often than with any other vegetable.
Hot Theplas, fresh off the griddle served wih Chundo/ Chunda (a spicy and sweet mango pickle), Kachumber (a simple salad) and some yogurt makes for a simple, satisfying and complete meal. It's such a versatile dish that on a regular day it can be served for breakfast, eaten as a snack or be packed for lunch with lentils and vegetables on the side.
Methi Thepla/ Methi Na Thepla (Spiced Whole Wheat & Chickpea Flour Flatbreads With Fenugreek Greens) & Announcing The Winner Of The Silk Road Vegetarian Cookbook Giveaway!
Lunch or breakfast time spiced thin and unleavened Indian flatbread made with whole wheat flour, chickpea flour and fresh fenugreek greens.
Ingredients
2

cups

finely chopped fresh fenugreek greens

(leaves and tender stalks)

2 1/2

cups

whole wheat flour

1/2

cup

chickpea flour

1

tsp

carom seeds

(Bishop's weed)

1

tsp

coriander powder

1

tsp

cumin powder

1/2

tsp

chili powder

1/4

tsp

turmeric powder

1

large pinch

asafoetida powder

to taste

Salt

1/4

cup

thick yogurt

2

tbsps

oil

A little more oil to cook the Theplas
Instructions
*In India, fenugreek greens are sold in largish bunches. Open up the bunches and wash well in running water. Shake the excess water off the leaves or pat them dry with a towel. Chop up the leaves and the tender part of the stalks.

Put all the dry ingredients in a large bowl or the bowl of your kneading machine/ processor and mix them well. Add the chopped fenugreek greens, yogurt, the oil and just enough water so that you can knead everything into a smooth dough that is neither too firm not too soft. Let the dough rest, covered loosely for about half an hour.

Divide the dough into about 12 portions. Roll each one into a ball and flatten slightly. Lightly dust with wheat flour and roll them out thin with a rolling pin, into rounds about 5" to 6" in diameter.

Place a griddle or a slightly heavy tava on the stove. When it is quite hot, cook the rounds of dough, one at a time, over medium to high heat.

First let each Thepla cook on one side. Then turn it over to cook on the other side and brush a little oil on the cooked side. Now turn it over again and brush a little oil on this side too. Now cook the Thepla on both sides until they're done and brown spots appear on both sides. Do not let them burn.

When they're done stack them in a bread basket or other suitable container and serve warm or at room temperature with something on the side depending on the meal and according to your preference.
Notes
Announcing The Winner Of The Silk Road Vegetarian Cookbook Giveaway -
I must apologize for the delay in announcing the results of the Silk Road Vegetarian - Vegan, Vegetarian and Gluten-free Recipes for the Mindful Cook by Dahlia Abraham-Klein. The best laid plans can come apart by things unplanned and that's just what happened with me, though the unplanned events were good ones. It only meant that I had very little time to spare for the internet and this blog but that's done now.
First of all let me thank all of you who entered the GIveaway. As I had mentioned in my Giveaway announcement post, Tuttle Publishing would be giving away 2 copies of the Silk Road Vegetarian Cookbook and ship them worldwide to two randomly chosen comments on that post.
So congratulations Rafeeda A. Raheem and Jayne, as you are the two lucky winners of a copy of the cookbook. Lookout for an e-mail from in your inbox.
Should either one of the winners not respond within a week, I will choose someone else to receive the cookbook.
Do keep watching this space for more cookbook giveaways through October and November.