It was my turn to pick the bread to bake this month at the Bread Baking Babes. I am the only Indian in this group of bread lovers and bakers from different countries. So I picked Matar or Chola Kulcha to give them an example Indian street food and bread. Matar or Chola Kulcha actually is a meal that is the combination of two dishes – a flatbread and a spicy salad of sorts with well-cooked white peas or a cooked curry. Matar is the Hindi word for peas and Chole/ Chola is chickpeas. Kulcha is a leavened soft and fluffy flat bread. Matar or Chola Kulcha is a much loved street food across parts of North India, especially in the by-lanes of Old Delhi.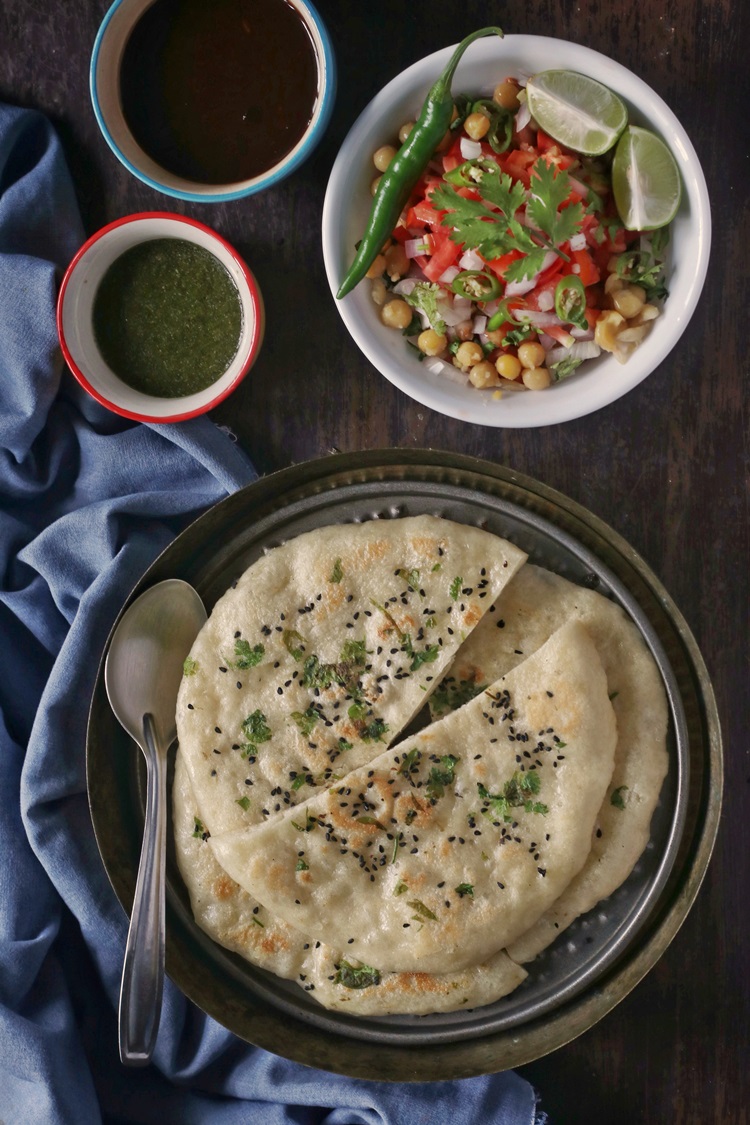 Matar Kulcha is also sometimes called Chola Kulcha, and is almost always made with white peas. The white peas can be substituted with chickpeas. Typically, dried white peas are soaked overnight and cooked with salt until soft and falling apart. It is mashed so it breaks up but is still a little chunky. This is mixed with finely chopped raw onions, tomatoes, chopped green chillies and fresh coriander into a salsa of sorts. The salsa is then topped with a spicy coriander-minty green chutney, a sweet and sour tamarind chutney and a sprinkling of cumin powder. The Matar or salsa is eaten with Kulcha or flatbread. There are variations on the ingredients that go into the Matar. The white peas is sometimes cooked into a spicy curry that is served with the flatbread. This is a healthy, balanced and filling meal, actually.
The Kulcha is a flatbread somewhat like the Naan but a bit different. A Kulcha is typically leavened with baking powder and baking soda, while Naan is made with yeast. Naans tend to be chewier while Kulchas are soft and spongier. Naans are usually made oblong in shape while Kulchas are generally round. The shape is more of a preference than a rule. Naanas tend to be cooked in a Tandoor while Kulchas are usually cooked on the stove top, but this isn't a hard and fast rule either.
This particular Kulcha recipe, adapted from an Indian chef Ranveer Brar, deviates from this rule. Ranveer Brar's recipe uses a khameer or pre-ferment which gives the Kulcha a slight tang. Khameer is an Urdu word meaning yeast. There's a story about the Kulcha became popular, thanks to the Nizams of Hyderabad. The Nizams were 18th-through-20th-century rulers of the princely South Indian state of Hyderabad. They were rich and powerful, and also famous for their cuisine.
The story goes that one Mir Qamruddin, an old courtier in Mughal court, was appointed the Deccan governor. He first went to meet his spiritual guide, the Sufi mystic Hazrat Nizamuddin Aurangabadi. Mir Qamruddin was very hungry when he got there so his spiritual guide invited him to a meal. He offered some Kulchas and  Mir Qamruddin, with apologies, apparently ate seven of them! Hazrat Nizamuddin prophesised that Mir Qamruddin would eventually become king and that his descendants would rule for seven generations. I don't know why the number seven is so important in this story.
Mir Qamruddin became the Deccan governor, Delhi was attacked and the Mugal rulers were defeated. The Nizams who were governors, took over the Deccan region to become kings of the biggest and richest kingdom in India. The Kulcha became an important dish in Nizam royal cuisine.
There are different types of Kulchas, though all are flat breads. One is this type that is soft and spongy. Then there is the Bread Kulcha which has the texture of bread. The Amritsari Kulcha is a flat bread stuffed with a spiced potato filling.
This particular Kulcha is made from a slightly looser dough than usual for flatbreads. It tends to be a bit sticky. Lightly dusting your working surface and palms with flour makes handling the dough easier. Kulchas are usually topped with Kalonji or Nigella seeds (you can use black sesame seeds also) or dried fenugreek leaves (Kasuri methi) or chopped fresh coriander leaves.
Dried white peas (they're actually slightly yellow in colour) are typically used to make the accompanying salsa like dish or curry. They're called Safed Matar in Hindi or Vatana along the Konkan Coast. If you cannot find this, you may use chickpeas. The dried white peas have to be soaked overnight. Then they're cooked with a small pinch of baking or cooking soda till almost mushy. The baking soda helps the peas or chickpeas cook very soft and also breaks down oligosaccharides in beans making the less "gassy". Always discard the water in which the peas are cooked in, if adding baking soda.
You can make the chutneys ahead and refrigerate. The white peas or chickpeas can be cooked, mashed and refrigerated a day ahead. If you are not serving the Kulcha as soon as you make it, you can cook it partially, upto the point before it is cooked in ghee or butter. When you are ready to serve the Kulcha, cook it in ghee or butter.
Matar or Chola Kulcha
A popular Indian street food of a soft flat bread and a spicy, sweet, sour salsa like accompaniment of mushy white peas, onions and tomatoes.
Ingredients
For the Khameer or Pre-Ferment :
1/2

tsp

instant or active dry yeast

1

tsp

sugar

1

cup

all-purpose flour

1

cup

water
For Kulcha Dough :
All of the Khameer/ Pre-ferment

1/2

tsp

instant or active dry yeast

1 1/2

cups

all-purpose flour

2

tbsp

plain yogurt

1/2

tsp

salt

1 1/2

tbsp

ghee or soft unsalted butter

more

water, if needed for a soft dough
For the Topping :
Nigella seeds or black sesame seeds

Kasuri methi (dried Fenugreek leaves) or chopped fresh coriander leaves

Ghee or unsalted butter for cooking the Kulchas
For the Matar or Chola :
2

cups

white peas or chickpeas

soaked overnight

Enough water to cook the peas or chickpeas

pinch

Aof baking soda

1

large onion

finely chopped

2

fresh Green chillies

finely chopped (to taste)

1

large tomato finely chopped

1/2

cup

finely chopped fresh coriander leaves/ cilantro

2

tbsp

finely sliced ginger juliennes

1

tsp

cumin powder

Salt to taste
For the Green-Mint Coriander Chutney :
A handful of fresh coriander leaves

A handful of mint leaves

2

or 3 green chillies

1

tbsp

fresh lime juice

Salt to taste
For the Sweet and Sour Tamarind Chutney :
1

cup

tamarind pulp thick

3/4 - 1

cups

powdered jaggery

1/2

cup

loosely packed seedless dates

finely chopped

2

tbsps

golden raisins

chopped

1 1/2

tsps

chilli powder

or to taste

1

tsp

cumin powder

Salt or black salt to taste
Instructions
For the Khameer/ Pre-ferment (previous night) :
Mix together the yeast, water, sugar and all-purpose flour till smooth in a big bowl. Cover and leave on the kitchen counter overnight to ferment.

If you want to make Kulchas for dinner, then do this early in the morning and allow it to ferment for about 8 to 10 hours depending on your ambient room temperature. A word of caution though - Kulchas can be a little heavy for dinner.
For the Kulcha Dough (some time next morning) :
The Khameer/ pre-ferment should have risen well and will appear quite stringy. Mix in the other 1/2 tsp of yeast, all-purpose flour, yogurt, salt and a little water. Knead till you have a soft, sticky and loose dough. You don't need a mixer for this. Your hand or a dough whisk is enough.

Add the ghee or soft butter and knead once again till well incorporated. Shape into a round and leave in the bowl. Cover loosely and let it rise till almost double in volume. This should take between an hour and two.

Knead the dough lightly to de-gas it. Then divide into 6 equal portions. Lightly flour your working surface, if required, and roll out each portion into a circle or oblong of less than 1/4 " thickness. Sprinkle some Nigella seeds and dried fenugreek leaves or coriander leaves/ cilantro and lightly press into the rolled out dough.

Heat a griddle or flat pan and place the rolled dough on it. Sprinkle a little water on the sides of the griddle/ pan (not on the dough) and cover. Cook the flat bread for a minute or so. Now remove the cover and cook on the other side as well. If not serving immediately, cook till here and keep aside. When ready to serve proceed further with cooking in ghee or butter as follows.

Brush some ghee or unsalted butter on both sides and cook until golden brown and crispy on both sides. Repeat with remaining portions. Serve hot.
For the Matar or Chola :
I cook dried peas, beans and lentils in the pressure cooker. Use whatever works for you but ensure the peas or chickpeas are cooked till really soft and almost mushy. Cook the white peas or chickpeas with enough water and a pinch of baking soda till soft and almost mushy. Drain the water. Discard the water. Let it cool completely.

Add salt to taste to the cooked peas/ chickpeas and using a large spoon or a masher, break down till quite mushy. There should be no whole peas or chickpeas but do not puree. It should have a slightly chunky texture.

To make the Matar or Chola, put the mashed mixture into a bowl. Add the chopped onion, tomato, green chillies, coriander leaves, and mix everything together. Also mix in cumin powder and more salt if required.

To serve, transfer this mixture to a serving bowl. Transfer individual portions of the Matar or Chola on to plates and garnish with a little onion, green chillies, tomato, ginger, a pinch of roasted cumin powder, and coriander leaves. Top with drizzles of green and sweet and sour chutneys. Serve it with hot kulcha.
For the Green Coriander-Mint Chutney :
Grind together a handful of fresh coriander/ cilantro leaves and tender stems, equal amount of mint leaves, green chillies, salt and a dash of lime juice with very little water till smooth.

This chutney should be savoury, on the spicier side with a little tang and a bit watery in texture. Adjust all the ingredients to taste. This will keep in the fridge for a week.
For the Sweet and Sour Tamarind Chutney :
Put the tamarind pulp and jaggery in a pan. Over medium heat, stir the mixture till the jaggery dissolves. Now add all the remaining ingredients and cook till the chutney thickens a bit and takes on a shiny appearance. Allow to cool and use as needed. This chutney keeps in the fridge for a while.

The amounts of tamarind, jaggery, chilli powder and salt may be adjusted as required. This chutney should be sweet, sour and spicy.