All the Christmas baking I've been seeing on Instagram, Facebook and Pinterest has got to me. I've given into the temptation of baking something that's totally Christamassy! I made some Fudgy Brownie Christmas Trees.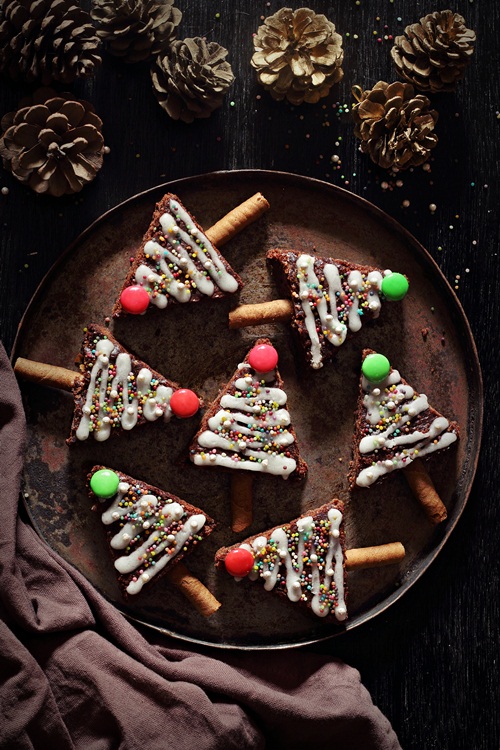 These Fudgy Brownie Christmas Trees are just that – brownies cut and decorated to look like Christmas trees. I think I first came across them a couple of years back and have been wanting to make some since. It's just that every Christmas, my baking gets taken over by these Date & Walnut and Fruit Cakes, and cookies. This time I decided to start my festive baking withthose brownies.  
I. Love. Brownies. I cannot resist the intense chocolate goodness of them. It also helps that my brownies are never too sweet. I do have a preference for cakey Chocolate Brownies though. Fudgy Brownies always seem like partially uncooked to me. So I rarely eat or make Fudgy Brownies.
This particular recipe makes brownies that are half way between cakey and overly fudgy. The balance is just right for me. If your taste in brownies run in this direction, this is the recipe for you.
Fudgy Brownie Christmas Trees are very easy to make. Bake the brownies, let them cool and cut them into triangles. Push in small pieces of chocolate cigarettes, pretzel sticks or chocolate fingers into the base of each triangle to make the "tree trunks".  Then pipe white or green coloured icing in a zig-zag pattern and sprinkle some coloured sprinkles and silver dragees on that. Decorate the top of each "tree" with red and green chocolate buttons. Let the icing set and serve. That's it!
I used an egg-free Royal icing to decorate my Brownie Trees. This basically is icing sugar mixed with a little lime juice and water. The consistency of the icing should be thick but runny enough to pipe easily. I like this icing the best because the lime juice cuts the sweetness of icing sugar. It's also surprisingly good on the brownies. You could use buttercream or any other icing/ frosting of your choice that pipes easily.
Fudgy Brownie Christmas Trees
Easy fudgy brownies, a nice balance between cakey and very fudgy, that are cut into triangles and decorated like festive Christmas trees.
Ingredients
For the Brownies :
100

gm

unsalted butter

1

cup

dark chocolate

chopped

1

tsp

instant coffee powder

2

eggs

lightly whisked

1 1/4

cups

sugar

3/4

cup

all purpose flour

1/4

cup

unsweetened cocoa powder

1/2

tsp

baking powder

1

teaspoon

vanilla extract

Pinch of salt
For the Icing :
1/2

cup

icing sugar

1/2

tsp

lime juice

1/2

tsp

water

more if necessary
For Decorating :
Coloured sprinkles

Red and green chocolate buttons

M&Ms/ Gems/ Smarties

Chocolate cigarettes/ Pretzel sticks/ Chocolate fingers
Instructions
Make the Brownies :
Melt the butter and chocolate in a heatproof bowl over a pan of simmering water (don't let the bowl touch the water). Mix in the instant coffee powder. Remove from the heat.

Lightly whisk together the flour, cocoa powder, baking powder and salt to mix. Quickly stir in the flour mixture, the whisked eggs, sugar, and vanilla until just combined.

Pour the batter into a parchment lined and greased 8" x 8" baking tin. Bake it at 180C (350F) for about 30 minutes or till done. A skewer inserted in the centre should come out with moist crumbs sticking to it (not uncooked batter). Do not over bake or the texture of the brownies will suffer.

Let it cool completely.
Make The Trees :
Cut the cooled brownie cake into 12 triangular tree-shaped wedges.

Mix the icing sugar with a tsp or two of water to make a thick icing that is runny. Put it into a plastic icing bag and cut a small hole at the bottom. Pipe over the brownie triangles in a zigzag pattern.

Lightly scatter the sprinkles over the icing and place a red or green chocolate button on the top pf each brownie tree. Insert a chocolate cigarette/ pretzel stick or chocolate finger at the base of each tree to create a tree trunk.

Let the icing to set well before serving.