I'm finally back again, after a rather long break. This time I present you with An Easy Lime & Thyme Cake with Lime Icing. I've had a few friends ask if I have stopped blogging altogether A couple of readers have even left comments on posts saying they're looking forward to seeing my posts again. Just to clarify matters, I haven't stopped blogging. We've been otherwise occupied the last few months. Unexpected short trips, some home renovation, paperwork and stuff as our daughter prepare to leave for her masters at Oxford. Throw in a couple of viral fevers into the mix and it meant that I had no time for the blog.
The fevers are gone, all is back to routine on the home front and the daughter is in the UK. I'm on a short vacation and now have loads of time on my hands. So it's time I got back to the blog, and it's time for cake.
Since July, we have gone through our wedding anniversary and all our birthdays. We couldn't celebrate them though, as we normally would. Our daughter turned 21 this year but she and I were both in bed with a viral fever that week! As soon as we both got a bit better I wanted to bake a cake for her. Still a little low on energy, I picked a simple cake. The flavors were influence by the fact that Akshaya loves lime in dessert. I also had a bag of fresh thyme in the fridge that I wanted to try using in a sweet dish.
After looking around a bit I came across this recipe which I adapted to my taste. This recipe makes a really delicious a moist lime flavored cake with a very nice hint of thyme. It's not too sweet and the layer of Lime Icing on the top gives the cake just enough sweet and a little tang to make it perfect.
This Lime & Thyme Cake is perfect whether you're looking for a special tea time cake or simple yet stylish looking celebration cake. Even nicer, is how little time an effort it takes to make and decorate it.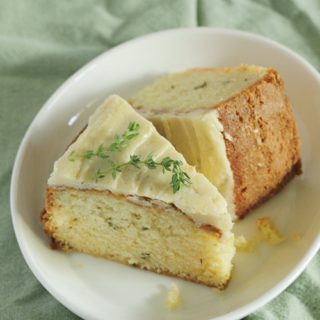 An Easy Lime & Thyme Cake
A moist lime and fresh thyme flavoured tea time cake topped with a thin layer of lime icing. A stylish looking cake that's great for special occasions and celebrations as well.
Ingredients
For the Cake:
1 1/4

cups

all purpose flour

1

tbsp

cornstarch

1/2

tsp

baking power

1/2

tsp

baking soda

1/4

tsp

salt

3/4

cup

sugar

50

gm

butter

melted

1

egg

2/3

cup

milk

2

tbsp

lime juice

1

tsp

lime zest

3/4 to 1

tbsp

finely chopped fresh thyme
For the Lime Icing:
50

gm

unsalted butter

soft at room temperature

1 1/2

cups

icing sugar

1/4

tsp

vanilla extract

2

tbsp

milk

1

tsp

lime zest

Fresh thyme sprigs to decorate

Fresh thyme sprigs to decorate
Instructions
Make the cake.
Whisk together the flour, cornstarch, baking powder, baking soda, and the salt in a mixing bowl. Whisk together the sugar, melted butter, egg and the milk in another mixing bowl, till well mixed.

Pour the wet mixture into the dry ingredients and whisk together until well mixed an smooth. Mix in the lime juice and then fold in the lime zest and the thyme.

Pour the batter into an 8" round cake tin that is grease and lined with parchment at the bottom. Bake at 180C (350F) for about 30 minutes till the cake is one and a skewer inserted into the middle of the cake comes out clean.

Let the cake cool in the tin for about 10 minutes. Then gently unmould the cake at let it cool completely before icing.
Make the Lime Icing.
Do while the cake is baking. Put the butter in a mixing bowl and with an electric mixer, beat till it is fluffy. Add the icing sugar in two or three batches an beat in till smooth. Beat in the vanilla extract, milk and lime zest so you have a smooth icing that's on the runnier side than firm texture. You do not want a watery icing though. You won't be able to pipe it but it should spread well without dripping off the side.

If the Icing feels too soft let it sit in the friged for about 15 minutes. Spread it over the top of the cool Lime & Thyme Cake and garnish with fresh thyme sprigs. Serve.