This post is about how I started out with a Marbled Bundt Cake and finished with an Easy Ice Cream Cake. Let's start at the beginning though. It's funny how clichéd it can sometimes sound when people wonder about how time has flown by. Yet I now find myself in that very situation wondering just where the years have gone. I can clearly remember my daughter as one year old thrilled to find any scrap of paper so she could tear it apart. It seems like it was just a few years ago when she demanded a big birthday party so that she would have a lot of birthday gifts to unwrap. And it feels like just a few months ago when I dropped her off at her first day in college.
She's now home for the summer, this time having completed her three years at college and looking at moving on elsewhere for further studies. It seemed a good occasion to celebrate what she calls her freedom from college by baking a cake. Her cousins who live close by are also down for their summer break and together, the kids are always happy to help me finish off anything I bake for them.
While they're always game for fancy desserts, chocolate and vanilla are firm favourites. So I set out to make a marbled chocolate and vanilla bundt cake. Everything went just well and at the end of about an hour in the oven, I had the perfect bundt cake.
Having baked so many cakes before, I should have known better than to remove the cake from the bundt pan while still hot. Don't ask me what I was thinking but that's exactly what I did! So the cake broke, of course!
It took me a little while to get over the frustration of my stupidity and my disappointment but then my grey cells (in Poirot's language) got going. Luckily, the cake broke only into 3 pieces. So I put them together and pushed them back into the bundt pan. Into the refrigerator that went while I searched out ways to save my cake. Refrigerating the broken cake saved it. I could have gone ahead and decorated the cake since it seemed whole but I was a little worried that it might split again if it stayed too long at room temperature…….
I got quite a few suggestions from friends on Facebook when I asked for ideas and suggestions. Just in case you didn't know, social media can be such a saver at times, I tell you. Ice Cream Cake appealed the most largely because it's been a really hot summer and anything cold is always welcome. The fresh graduate also developed a sore throat from infected tonsils and anything cold was just what the doctor advised.
The bundt cake fiasco happened late in the evening. It was quite late when I sent out father and daughter to get the ice-cream. They would normally have complained very loudly about having to step out so late but the promise of Ice Cream Cake seemed saw them go quietly.
Once you have the cake and the ice cream, this is probably one of the easiest things to make. Of course, you have to give it the time for the ice cream to set in the freezer so it is something that needs a little planning a head. It does make for a great make-ahead dessert.
I used vanilla and chocolate marbled cake (the recipe for that will come another day when I have an unbroken cake to share) and vanilla ice cream ( about 2.5L of it). I also folded in some chocolate candy balls into the ice cream and covered my cake with chocolate ganache. You don't really need a recipe as such for this but just in case you feel it would be useful, here's how I made mine.
You don't have to have a cake disaster to make an Ice Cream Cake. Just make sure you have a firm and moist cake and you should be good to go. At a pinch, use good quality store bought cake and ice cream. You can turn this into a two or three layer cake with different flavours of ice cream, or decorate it with whipped cream for something different. This is a dessert that lets you get as creative as you want to be.
If you're left with a bit of a disaster on your hands, it helps if your cake broke into 2 or 3 large pieces. These are easier to slice once you have just put the cake back into the pan as it came out and refrigerate it for a few hours. I haven't tried it, but if your cake crumbles adding a little half and half (milk and cream) should bring it together. You can then press the cake crumbs into the bottom and sides of the cake tin much like for a no-bake cheesecake base.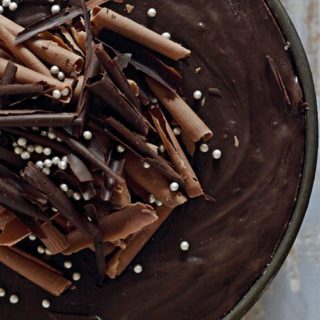 An Easy Ice Cream Cake & How I Saved a Broken Cake …..
Vanilla ice cream sandwiched between layers of sliced vanilla and chocolate marbled cake topped with a creamy chocolate ganache topped with chocolate curls.
Ingredients
1

eight-inch

vanilla and chocolate bundt cake

2 to 3

litres

vanilla ice cream

1

cup

chocolate candy balls

optional

3/4

cup

chopped milk chocolate

3/4

cup

chopped dark chocolate

200

ml

cream

25% fat

Chocolate curls for decorating
Instructions
Take the refrigerated cake out and cut into slices about 3/4" thick. Line a 9" by 2 1/2" cake tin with cling wrap allowing a little over hang. Line the base and sides of the cake tin with a single layer of cake slices. Fill in the spaces between slices with smaller broken pieces of cake. Keep the remaining slices aside.

Let your ice cream thaw until it is of almost soft serve consistency. If using chocolate candy, fold it in. Spoon in the ice cream into the lined cake tin till it is about 1" short of the rim. You need to leave enough space to take one layer of cake slices and a layer of chocolate ganache.

Cover with cling wrap and freeze for about an hour till the ice cream feels a little firm. In the meanwhile, heat the cream in a small sauce pan. Add the chopped chocolate and take it off the heat. Keep stirring until the chocolate completely melts. Let it cool a bit.

When the ice cream layer feels somewhat firm, remove the wrap and spread a single layer of cake slices to cover the ice cream completely, filling gaps with smaller pieces as before. Spread the ganache over this cake layer to cover it completely. If the ganache is too thick warm it a little. Smoothen the top and decorate with chocolate curls. Cover loosely with cling wrap to prevent the cake from drying out.

Freeze for about 6 hours till firm or overnight. About half an hour or so before serving, move the cake to refrigerator. Use the cling wrap to unmould the Ice Cream Cake. Dip a sharp knife in hot water to slice the cake easily.