I've done a lot of crazy things for food, as you will realize when you read this post. This Easy Cape Gooseberry Preserve is the result of one such crazy food story. We spent much of the latter half of December and the first half of this month travelling. Early this month we were back in Goa for the wedding of our friends' daughter. We decided to turn the trip into a short vacation, catching up with family and friends.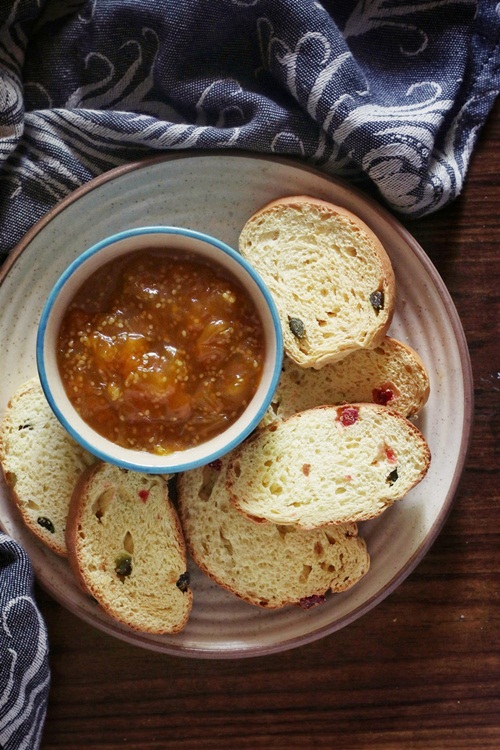 This time of the year is the best for the cooler weather and the variety of produce especially fruit. One of things I miss about Goa is the beautiful variety of winter fruit and vegetables. When I visit Goa, and Panjim in particular, I always make a trip to the market there. I shopped there regularly, for over 15 years, and my connection with the market is very strong.
This time was no different and the fruit especially had me salivating emotionally. I'm not lying when I tell you I was tempted to cart half the market back home! Since that was an impossible feat, I decided to bring back some stuff I don't get here in Kochi. So I brought back the usual Goan chillies, kokum, cashewnuts, tirphal (similar to Szechaun pepper), etc.  I also carted back some fresh figs and Cape Gooseberries.
If you're unfamiliar with the Cape Gooseberry, it is a fruit that looks somewhat like the tomatillo. The Cape Gooseberry is also known as Physalis, Ground Cherry, Goldenberry or Pichuberry. It is native to Peru, about the size of a cherry tomato and golden yellow in colour with a thin papery cover. The fruit is sweet and slightly tart when ripe. It grows in the Northern parts of India as well and locally known as Rasbhari.
I love Cape Gooseberries and have missed them these past couple of years. You can eat them as they are, bake with them or use them to garnish desserts. My favourite thing to do with Cape Gooseberries is to make them into preserve. Actually, I find this is a good way to keep the fruit around for longer.
This preserve is very easy to make. Halve the fruit and cook it till soft. I like to cook them in unsweetened orange juice. You can use water instead. Add the sugar and some vanilla. I also like using allspice instead of vanilla. Add a little bit of butter to the cooked preserve and let it cool. The butter adds a nice shine to the preserve. That's all it takes.
I typically make small batches of jam because we don't eat a lot of it. You can double, triple or quadruple the ingredients for a larger batch.
Easy Cape Gooseberry Preserve
An easy recipe to cook cape gooseberries, physalis or ground cherries into mildly citrus flavoured and golden fruit preserve.
Ingredients
3

cups

cape gooseberries

3/4

cup

unsweetened orange juice

1/2

cup

water

2/3

cup

sugar

1

tsp

vanilla extract

1

tbsp

salted butter
Instructions
Start by removing the papery covers from the Cape Gooseberries. Wash them and then halve each fruit. If you want to make jam, you can run the fruit in the blender and then make the jam.

Put the halved fruit, the orange juice and the water in a thick walled pan. Bring to a boil and then turn down the heat. Stir occasionally and let the fruit cook till it is soft. Add a little more juice or water if you feel it is required to cook the fruit.

Add the suagr and vanilla to the cooked fruit. Stir to dissolve the sugar and cook till the fruit mixture thickens and reaches a jam like consistency. Turn off the heat. Stir in the butter and let the preserve cool down.

Transfer to a strile glass jar and cover with airtight lid. Refrigerate if necessary.