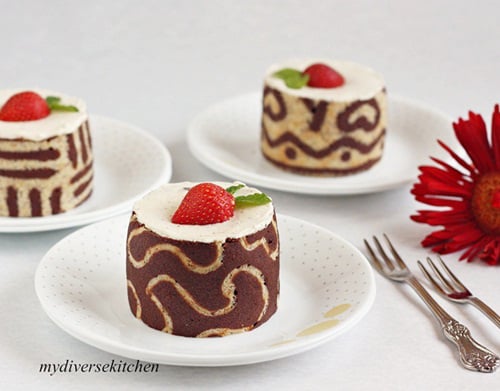 Having completed 3 years as a Daring Baker, I must admit that that the monthly challenge announcements no longer have the same effect they did when I first joined the group. Being someone with very basic baking skills, I still remember the first year of challenges used to leave me quite confused. Challenges I had never heard of that usually ran to at least 3 or 4 foolscap sheets, ingredients that I couldn't find here and culinary techniques I knew very little about didn't exactly leave me with much confidence.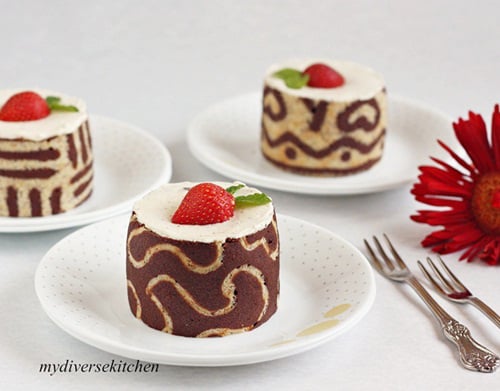 A lot of reading up and 3 years of an extraordinary Daring Baker support system has resulted in my becoming a baker with some confidence in my own skills. So much so, that I have become comfortable with adapting a large number (or a part of) the challenges as egg free bakes/ desserts.
The January 2011 Daring Bakers' challenge was hosted by Astheroshe of the blog Accro. She chose to challenge everyone to make a "Biscuit Joconde Imprime" to wrap around an Entremets dessert.
I know, my first reaction was "Huh?" Previous challenges ensured I knew what a biscuit joconde and entremets were but the imprime had me puzzled. Let's clear up the mystery of these French terms (if it is a mystery to you).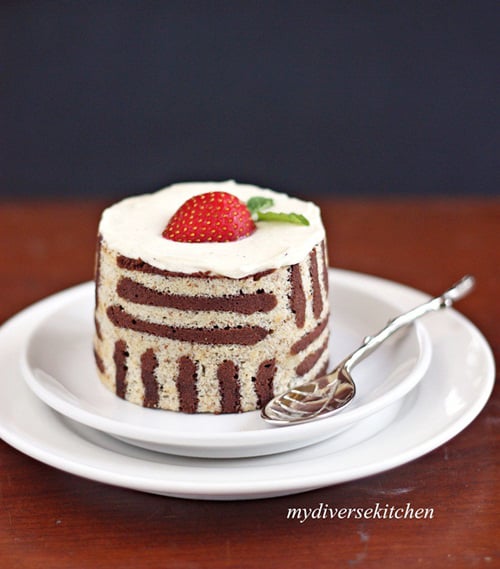 Biscuit Joconde – This is an almond sponge cake that is baked in thin sheets (like for jelly/ jam rolls) and used to wrap desserts like charlottes and mousse cakes. Incidentally, the name joconde comes from La Giaconda, another name for Da Vinci's Mona Lisa.
Joconde Imprime – Is the same as a biscuit joconde except that a design is "printed" into the sponge layer. This is done by layering or piping a "cigarette/ decor paste", freezing it and then layering the joconde batter over this before baking it.
Entremets – are multi-layered desserts usually of cake and mousse, but can include pastry creams which will set. They're usually chilled and served.
So in Astheroshe's words, a joconde imprime (French Baking term) is a decorative design baked into a light sponge cake providing an elegant finish to desserts/torts/entremets/ formed in ring moulds, and usually served cold. A joconde batter is used because it bakes into a moist, flexible cake. The cake batter may be tinted or marbleized for a further decorative effect.
I was quite excited by this challenge and the opportunity to learn how to do this myself. Let me say it looks a lot more complicated than it actually is. We had to make the biscuit joconde imprime with the provided recipe and also use it to create an entremets, but colours, designs, fillings, presentation, etc., were all our choice.
I used 1/2 the joconde recipe, 1/4 of the décor paste (cocoa) recipe to make four individual serve entremets. I used a ginger-nut cookie base (used in some cheesecakes) and topped with a layer of fresh strawberry mousse and a layer of white chocolate vanilla mousse. Both mousse flavours contain no eggs or gelatine.
As Silpat is something I don't get here, I baked my joconde on parchment paper. I needed to bake my cakes for only about 9 minutes and the edges started browning. How much time your joconde takes would largely depend on how thick or thin the layer is.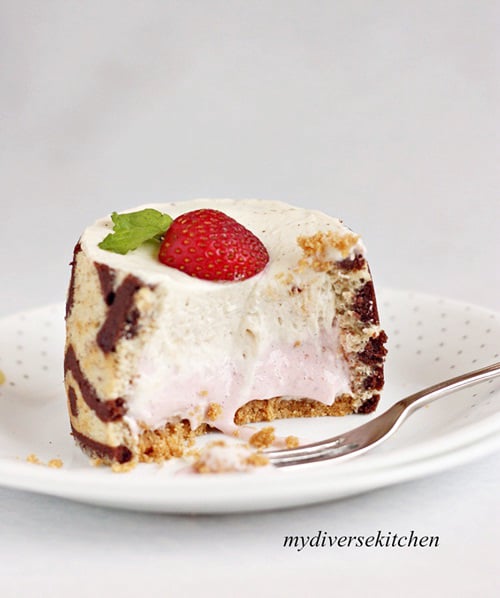 You can find the detailed challenge here. Given below are the quantities I used. I have already posted my easy fresh strawberry mousse which I used in my entremets. My white chocolate vanilla mousse was adapted from my egg free orange and chocolate mousse.
Designer Desserts - Joconde Imprime/ Entremets : Daring Bakers Challenge, January 2011
Having completed 3 years as a Daring Baker, I must admit that that the monthly challenge announcements no longer have the same effect they did when I first joined the group. Being someone with very basic baking skills, I still remember the first year of challenges use
Ingredients
For the Joconde Sponge :
1/3

cup

almonds

finely powdered

1/4

cup

sugar

plus confectioners ' (icing) 1 tablespoons

1/8

cup

cake flour

1

egg

2

egg whites

1 1/4

tsps

sugar

granulated

1

tbsp

butter

, melted
For the Patterned Joconde Dxe9cor Paste :
50

gm

butter

, softened

1/3

cup

sugar

plus confectioners ' (icing) 1 tbsps

2

egg whites

2/3

cup

cake flour

1/4

cup

cocoa

dark powder

1 u2013 2

tbsps

milk
Instructions
For the Joconde Sponge, in a clean mixing bowl whip the egg whites and white granulated sugar to firm, glossy peeks. Reserve this in a separate clean bowl to use later. Sift almond flour, confectioneru2019s sugar and cake flour. (This can be done into your dirty egg white bowl). Add the egg and mix well on medium speed, until smooth and light.

Fold in one third reserved whipped egg whites to almond mixture to lighten the batter. Fold in remaining whipped egg whites. Do not over mix. Fold in melted butter. Reserve this batter to be used later. This recipe makes enough to make 4 to 6 individual desserts u201cwrapsu201d.

For the Patterned Joconde-Dxe9cor Paste, Cream butter and sugar until light and fluffy, using a hand held mixer. Gradually add egg whites, beating continuously. Fold in sifted flour and cocoa powder. If the batter is too thick (it should be a bit thick), add a tbsp of milk.

Preparing the Joconde & How to make the pattern - Spread a thin even layer of dxe9cor paste approximately 1/4" thick on a sheet of parchment paper placed on an upside down baking sheet, with a spatula or flat knife. The upside down sheet makes spreading easier with no lip from the pan.

Pattern the dxe9cor paste u2013 Here is where you can be creative. Make horizontal /vertical lines (you can use a knife, spatula, cake/pastry comb). Squiggles with your fingers, zigzags, wood grains - be creative whatever you have at home to make a design can be used or use a piping bag. Pipe letters, polka dots, or a design. If you do not have a piping bag, fill a Ziploc bag and snip off corner for a homemade version of one. I used the same joconde- cocoa dxe9cor paste combination and made smaller strips, each with a different pattern.

Slide the baking sheet with paste into the freezer and freeze hard (approx. 15 minutes). Remove from freezer and quickly pour the joconde batter over the design. Spread evenly to completely cover the pattern of the dxe9cor paste.

Bake at 240C (450F) until the joconde bounces back when slightly pressed (about 8 to 12 minutes). The joconde bakes very quickly, so watch carefully.

Cool. Do not leave too long, or you will have difficulty removing it from the parchment paper. Flip cooled cake on to a powdered sugared parchment paper. Peel off the parchment paper from the joconde. The cake should be right side up, and pattern showing! (The powdered sugar helps the cake from sticking when cutting.)

Trim the cake of any dark crispy edges. You should have a nice rectangle shape. Cut the joconde imprime u201cwrapperu201d to required size. Traditionally, it is 1/2 the height of your mould. This is done so more layers of the plated dessert can be shown. However, you can make it the full height. This is a good video to watch before attempting to cut, line your mould with the joconde imprime and fill your entremet.

Make sure your strips are cut cleanly and ends are cut perfectly straight. Press the cake strips inside of the mould, decorative side facing out. Once wrapped inside the mould, overlap your ends slightly. Your joconde should fit very tightly pressed up to the sides of the mould. Then gently push and press the ends to meet together to make a seamless cake. The cake is very flexible so you can push it into place. You can use more than one piece to u201cwrap u201cyour mould, if one cut piece is not long enough. The mould is now ready to fill.

Note : If not ready to use. Lay cake kept whole or already cut into strips, on a flat surface, wrap in parchment and several layers of cling wrap and freeze. Fill with anything you desire. Layers of different flavors and textures are good but should be something cold that will not fall apart when unmoulded.

Suggestions for fillings : Mousses, pastry creams, Bavarian creams, cheesecakes, puddings, curds, jams, cookie bases, more cake (bake off the remaining sponge and cut to layer inside), nuts, Dacquoise, fresh fruit, chocolates, gelee and ice-cream.
Notes
My joconde imprime turned out perfect except that I made my strips a little too tall and so had to cut them down again. So pipe your designs with the height of your entremets in mind, or you might end up with a lopped off pattern! Even though I used the same joconde-cocoa décor paste pattern, I baked them as smaller strips each patterned differently.
This technique is really easy and yet looks as if a whole lot of effort goes into it. It is important to have a comparatively thinner, rather than thicker, joconde imprime layer for best results especially if you are using it in smaller/ individual serving entremets.
I know I shall be using this technique a lot whenever I get the chance to do so and experiment with colours and patterns as many of my very talented friends have done.