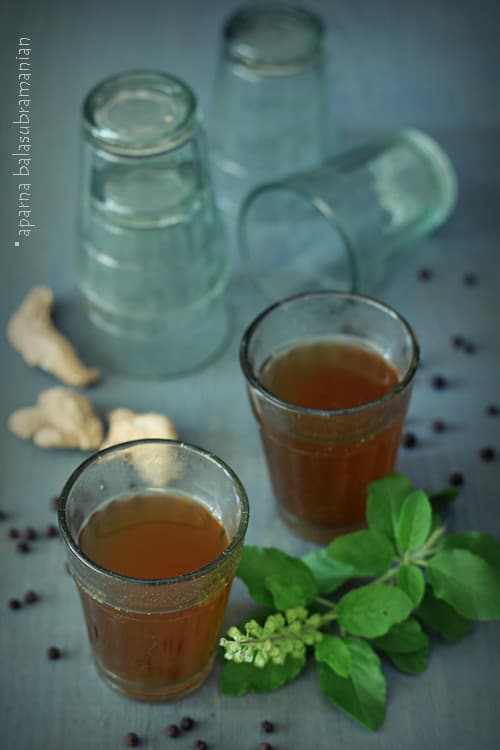 It should have been raining quite heavily the past couple of months as we're about half way through the monsoons/ rainy season here in the southern parts of India. Unfortunately, despite prediction by the local Meteorological department (which seem rarely accurate!), that we would have "normal" rainfall, the fact is that where I am the rainfall so far has been about 30% lower than it should have been.
It has been raining rather with the monsoons tempting us with the promise of heavy rains but going back on the promise at the last minute leaving us with rather sunny days peppered with showers. However, it has been raining quite heavily and continuously the past three days suggesting that the monsoons are finally picking up a bit, though later than usual.
Every monsoon, the rains typically bring with them colds, coughs and fevers that are mostly a result of getting wet. For many of us Indians, the first line of treatment is recourse to traditional fail proof home remedies that we grew up with. In my home state of Kerala, our home remedies have their origins in Ayurvedic texts and prescriptions and some of them are still my go to solutions for simple maladies like colds, mouth ulcers, non-serious knife accidents in the kitchen and sore throats.
One traditional home remedy that is still very popularly used to makes short work of the monsoon sniffles, mild throat aches and coughs and is especially soothing to the throat is "Chukku Kapi " which loosely translates as "Dry Ginger Coffee". A steaming hot cup of this coffee which is taken without milk, but spiced with goodness of dried ginger (Chukku), crushed black pepper (Kurumilagu), cumin (Jeerakam) and Indian/ Holy basil (Thulasi) was the ultimate comfort when feeling under the weather on a cold and wet rainy day.
Most home remedies including Chukke Kapi, used in Homes in Kerala have their origin in Ayurveda. While fresh ginger is known for its digestion friendly properties, in the dry form it helps in relief from colds and respiratory illnesses. Black pepper has an expectorant quality and provides relief from cold, coughs, sinusitis and nasal congestion. Cumin aids digestion and has anti-inflammatory and immunity boosting properties, while the Indian/ Holy basil has many medicinal qualities and is very effective for fever, coughs, bronchitis and other diseases of lungs.
This spicy drink is usually sweetened with palm jaggery (Karupetty) which is rich in iron. If you can't find that then use regular cane jaggery. If you live in an area where jaggery is not easy to find then use other unrefined sugar like palm sugar, the Mexican piloncillo, panela, etc. Do not use refined sugar, but substitute with honey instead which is also good for a sore throat. If you cannot find Holy/ Indian basil leaves, just leave them out.
The recipe for Chukku Kapi that follows is the most basic version. Many homes have their own versions which could vary from this in terms of other spice additions. Some people would not consider it alright to add coffee to this mixture, whereas others would leave out the cumin. Another variation is the addition of coriander seeds. Cardamom is another spice that goes well in this beverage.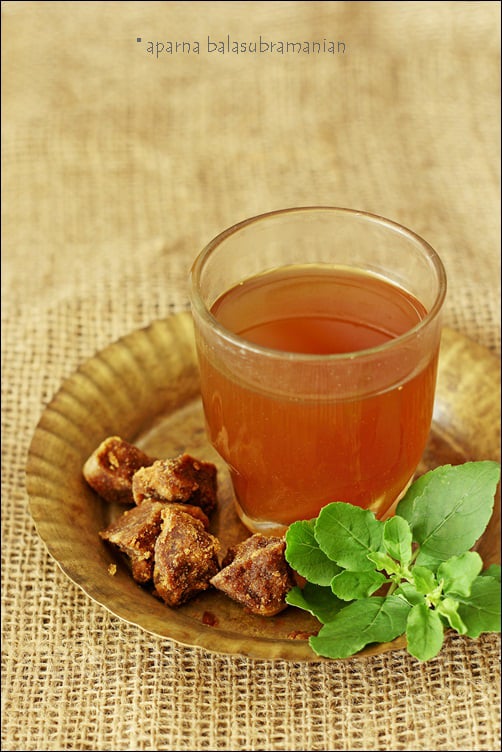 If coffee is not your thing and you prefer tea, you can use tea leaves instead. If you don't drink either then just don't bother with either and just drink it as an infusion. You don't even have to wait for a rainy day or even a cold to enjoy this coffee. It's a great thing to have anytime you feel the need for the warm comfort of a really hot drink.
Chukku Kapi (A Herbal Coffee With Dry Ginger And Black Pepper from Kerala)
A Indian spiced coffee and a kitchen remedy for colds and coughs, with dried ginger, crushed black pepper, cumin and Indian/ Holy basil.
Ingredients
1

tsp

finely grated dried ginger

(or well crushed 1/2" to 3/4u201d piece)

1/2

tsp

freshly crushed black pepper

1/2

tsp

cumin seeds

5 or 6

basil leaves

holy/ Indian (Thulasi)

to taste

powdered palm jaggery (Karuppatti) or regular jaggery

1

tsp

instant powder coffee
Instructions
Put the water in a small pan and put all the ingredients into it, except the coffee powder. Bring the mixture to a boil and let it simmer on low heat for about 10 minutes. Add the coffee powder, mix well and take the pan off the heat.

Strain the Chukku Kapi into two glasses or mugs and serve hot.
As for the giveaway of Chef Hari Nayak's latest cookbook, The Café Spice Cookbook sponsored by Tuttle Publishing, it was heartening to see a good response. As promised, Tuttle Publishing is giving away 2 copies of the cookbook in a worldwide giveaway, and I have randomly selected two winners.
Heartiest congratulations to Jacquie Astemborski and Manisha Bhadana. You both are the lucky winners of this giveaway, and please check your e-mail inboxes to see a detailed mail from me.
(Updated 7th August, 2015)
As Manisha Bhadana did not respond to the e-mail I sent to her, I'm picking another commenter for the for the second copy of the book being given away. Congratulations, Revati Ramamoorthy! You've just won a copy of The Cafe Spice Cookbook.