Summer is here once again, and it has been uncomfortably warm for a while. As I always say, one of the few things that make Indian summers bearable is mangoes. The other thing is Jackfruit (or Chakka as it is known in Kerala) if you like it. I'm one who is not particularly enamoured with it. I do like a few things jackfruit though. Jackfruit crisps/ chips, Jackfruit jam with ghee and jaggery and Chakka Payasam – Indian Jackfruit Pudding.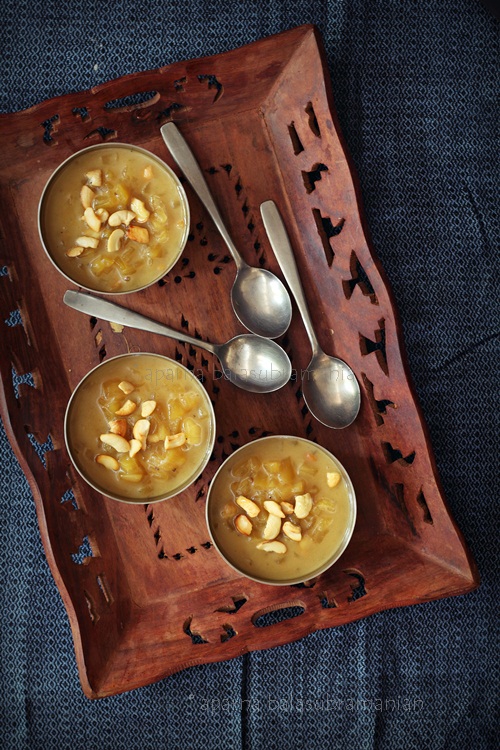 Jackfruit, in my opinion, is a bit of an acquired taste. You will find that people love it or dislike it. There's no grey area where Jackfruit is concerned. It is very popular in Kerala. Here it is eaten ripe and made into sweets or desserts. Raw Jackfruit is used to make crisp and slated chips. It is also cooked in a variety of local dishes as well. Prepping Jackfruit can be a rather involved process. If you're lucky enough to find the arils already prepperd, then that's a bonus.
In Kerala, the more popular Jackfruit Payasam is Chakka Pradhaman. A Pradhaman is a rich semi-liquid pudding. It is typically made with lentils (sometimes fruit like plantain or jackfruit) cooked with jaggery and coconut milk and flavoured with cardamom. Chakka Pradhaman is made with Jackfruit jam (chakkavaratti), jaggery and coconut milk. The Jackfruit Jam (chakkavaratti) is made using a lot of ghee. While it is delicious, it also makes the Chakka Pradhaman very rich.
This Chakka Payasam recipe also uses Jackfruit, jaggery and coconut milk. The Jackfruit here is not jam but the fruit which is chopped and cooked. Since there is very little ghee in this Chakka Payasam – Indian Jackfruit Pudding, it makes for a lighter preparation.
Coconut milk prepared fresh always makes the best Payasam. If you want to make your own coconut milk, grind 2 cups of fresh grated coconut with about a 1/4 cup slightly warm water as smoothly as possible. Squeeze with your hand and strain this through a strainer. This is the thick coconut milk or first milk. Grind the remaining solids with 1 cup warm water. Squeeze and strain as before. This is the thin or second coconut milk. Discard the remaining coconut solid.
It is always not practical or possible to make fresh coconut milk. So canned coconut milk or dehydrated coconut milk also works well. If you cannot find jaggery, you can use Mexican Piloncillo instead. Brown sugar does not really give you the same taste. You may try using Demerara sugar as a last resort. Adjust the amount of jaggery, if necessary, according to how sweet your Jackfruit is.
Chakka Payasam – Indian Jackfruit Pudding
South Indian style festive pudding from Indian state of Kerala made with ripe jackfruit, jaggery, coconut milk and cardamom.
Ingredients
10 to 12

jackfruit arils

2

tbsp

ghee

1/8

cup

broken cashewnuts

3/4

cup

powdered jaggery

1 1/4

cup

thick coconut milk

1

cup

thin coconut milk or water

1/2

tsp

fine rice flour

4 to 5

cardamom pods

powdered
Instructions
Deseed the jackfruit arils. You can save the seeds to cook with later, if like to. Slice and thn chop the jackfruit arils into small pieces.

Heat the ghee in a smallish pan. Add the cashewnuts and roast them till they turn a light golden brown. Remove them and set aside. Transfer the remaining ghee to a larger deep and thick bottomed pan. Add another tsp of ghee if required. Sauté the jackfruit pieces for about 2 to 3 minutes.

Then add the 1 1/4 cup of thin or second milk. If you don't have that much milk, make up with a little water. If you're using canned or dehydrated coconut milk, add water instead. Let it come to boil. Turn down the heat and let it simmer till the jackfruit has cooked and is soft. The liquid would also have reduced to about half.

Mix in the powdered jaggery. Let it come to a boil and simmer for about 5 to 10 minutes, stirring occasionally. The mixture should have thickened a little by now.

Mix the fine rice powder into the thick coconut milk. Add this to the pan and stir. Let it simmer for about 2 to 3 minutes.

Stir in the powdered cardamom and the browned cashewnuts. Take the pot off the heat. Let it cool down. Serve while slightly warm or at room temperature. You can also chill this Chakka Payasam before serving.