When I saw we were making Cannoli this month for the DB challenge, I must say I was a bit relieved. Even though I have never seen a cannolo before, I have had more success with things Italian than French when it comes to these challenges.
The November 2009 Daring Bakers Challenge was chosen and hosted by Lisa Michele of Parsley, Sage, Desserts and Line Drives. She chose the Italian Pastry, Cannolo (Cannoli is plural), using the cookbooks Lidia's Italian-American Kitchen by Lidia Matticchio Bastianich and The Sopranos Family Cookbook by Allen Rucker; recipes by Michelle Scicolone, as ingredient/direction guides. She added her own modifications/changes, so the recipe is not 100% verbatim from either book.
Cannoli are popular Italian-American pastries, although they date back to Palermo in Sicily, where they were made during the Carnevale season. The cannoli are fried, tube-shaped pastry shells (usually containing wine) filled with a creamy filling of sweetened ricotta cheese, chocolate, candied fruit or zest, and sometimes nuts.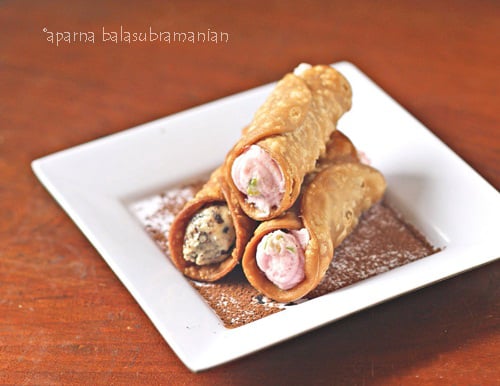 Although not traditional, mascarpone cheese is also widely used, instead of ricotta (sometimes with ricotta) to make for a creamier filling. Cannoli can also be filled with pastry creams, mousses, whipped cream, ice cream etc.
We had to make the crisp cannoli pastry shells using the given recipe but were free to choose the shapes of our cannoli, filling and presentation. To make the cannoli, one needs metal or wooden cannoli moulds around which the dough for the pastry is wrapped before deep frying it.
These moulds are not available here, so we made the moulds at home. We bought a 2 feet long 3/4″ diameter) piece of steel curtain rod from the hardware store. My husband cut this into six pieces (4″ long) to make perfect cannoli moulds.
I substituted the marsala with unsweetened apple juice while making the cannoli pastry dough. I left out the cinnamon as my daughter doesn't like cinnamon too much. I also did not use the egg (given in the original recipe) for sealing the dough circles around the moulds before deep frying. I used a paste made with all purpose flour and a bit of water instead, which is what we usually use in India, for this purpose.
I had planned to do this challenge early in the month, but the flu paid us a very unwelcome and extended visit, so I ended up making my cannoli early this week. Ricotta is a cheese which is not available here, but Indian soft cheese called paneer is pretty much like ricotta and a very good substitute. Not having much energy or time to make my own ricotta or mascarpone, I used Amul paneer which is really the best paneer available.
The complete recipe is available at the Dring Bakers site.
For the filling, I used the given recipe as a sort of guideline and made up my own fillings. I didn't really measure the quantities of the various ingredients but made up the filling according to our taste. This isn't a problem as the main ingredient in the filling is the cheese and sugar which one adjusts to taste.
I made my cannolis with three different fillings, two sweet and one savoury. I made the fillings the previous day and refrigerated them. Take them out about half an hour before you need to fill the cannoli so the filling is soft enough to pipe into the shells.
Cardamom flavoured rose and pistachio filling: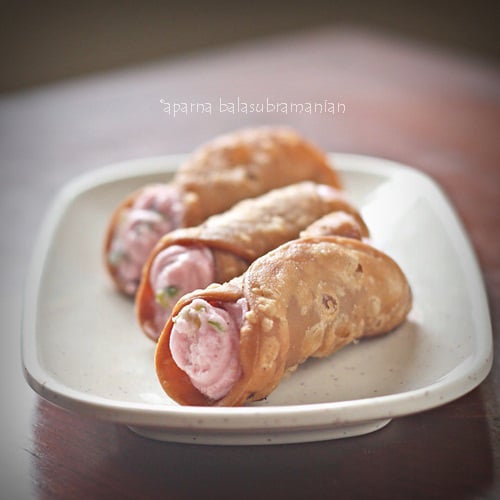 Blend crumbled paneer, powdered sugar, a tbsp or so of rose syrup and a bit of cardamom in the blender till very smooth. Chop up pistachio nuts and fold into this. Refrigerate till required.
Go easy with the rose syrup or the flavour can get too strong and the filling too sweet. Also remember that a little less cardamom is always better, as it can make the sweetness of the filling stand out.
Coffee and chocolate filling:
Blend crumbled paneer, powdered sugar, about a tsp of instant coffee powder and vanilla extract in the blender till very smooth. You can add chocolate chips, but I chose to fold in chocolate curls into the creamed paneer. Refrigerate till required.
Savoury onion, carrot and fresh coriander filling: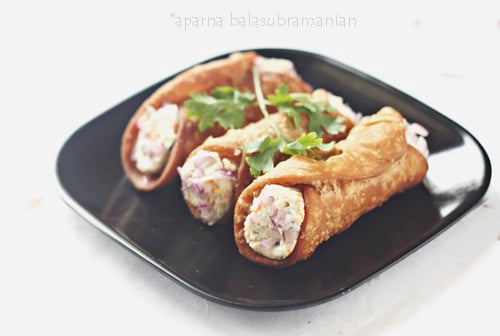 Blend the crumbled paneer, a little salt, half a tsp of garlic paste, about a tsp of garam masala and some chilli flakes in the blender till smooth. Fold in some very finely chopped red onions, finely grated carrot and chopped coriander leaves. Refrigerate till required.
Some helpful tips to keep in mind while making cannolis:
Do not wrap the dough circles too tightly around the moulds, or else they will be difficult to slide off the moulds once they have cooled after frying.
The key to crisp and blistered (this is very desirable and a hallmark of cannoli, I'm told) cannoli shells is to roll out the dough as thin as you can. If the dough is not rolled out thin, you will end up with chewy and rather tasteless shells.
The other important thing is to ensure your oil is the right temperature. I don't have a fryer or a kitchen thermometer, but I have a lot of experience (as most Indians would) with deep frying food.
If your oil isn't hot enough, the shells will not cook properly and be very greasy. If the oil is too hot you will get burnt shells.
This challenge was an easy one for me to do, for a change. The fillings were easy to make as was the dough. Rolling out the dough, cutting the circles, shaping them and frying them was also easy enough and didn't take much time.
We liked the cannoli. What's not to like when something is deep-fried, crisp and filled with creamy, smooth and flavoured paneer? I personally like the contrast of crunch and creamy smoothness of the cannoli.
Would I make them again? I think I definitely will. The savoury cannoli make great appetizers while the sweet ones make a very interesting dessert. I didn't particularly like the addition of the cocoa powder to the cannoli dough as I felt it didn't really do anything for the flavour of the cannoli, so I would leave that out next time.
Before you leave here, I would like to remind everyone that my blog is celebrating its second anniversary and I am giving away a copy of Petite Sweets: Bite-Size Dessets To Satisfy Every Sweet Tooth by Beatrice Ojakangas. The giveaway is open till the 30th of this month**, so please do be a part of this and celebrate with me.