We Daring Bakers are back again and we are all singing in the kitchen this time, though different tunes! No, we haven't taken to singing choruses. Our hostesses for this month, Lis of La Mia Cucina and Ivonne of [Cream
We Daring Bakers are back again and we are all singing in the kitchen this time, though different tunes! No, we haven't taken to singing choruses. Our hostesses for this month, Lis of La Mia Cucina and Ivonne of Cream Puffs in Venice, and co-hosts Fran of Apple,Peaches, Pumpkin Pie and Shea of Whiskful decided to challenge us to bake an Opera cake.
An Opera cake is a French dessert cake with origins somewhere in the early 1900s. Some also know it as the Clichy cake and believe it was first made by Louis Clichy. An opera cake is traditionally made of 6 layers of joconde (almond sponge cake) moistened with a syrup and then sandwiched with buttercream, covered with a ganache and covered with a dark chocolate glaze. The cake is usually decorated with musical notes or the word "opera" piped in chocolate or edible gold leaf.
Our hosts are dedicating this month's challenge to Barbara at Winos and Foodies. So all our cakes were to be made using only light flavours and pastel shades of colour rather that the dark and light coloured layers of the typical Opera cake.
Barbara is the moving force behind the food blog event called "A Taste of Yellow" in support of Lance Armstrong's LiveSTRONG Foundation. Lance Armstrong has written a book called "It is Not About the Bike – My Journey Back to Life"which is worth reading if you already haven't done so.
Back to the challenge. We had to follow the provided recipe but were given a full freedom regarding the shape of our cakes, choice of flavouring for the cakes, buttercream and ganache and even the options to leave off the ganache/ mousse or the glaze if we wdid not want to make them.
So I made my cake using a mixture of powdered almonds and cashewnuts (instead of all almond), moistened with cardamom infused sugar syrup and sandwiched the layers with mango buttercream. I chose not to make the ganache/ mousse and glazed my cake with white chocolate tinted to a pale green.
Here's are two pictures of my version. Quite cute, don't you think? Well, don't be fooled by the picture because my cake looks a lot better here than it actually was. I'm beginning to think I'm a better photographer (and that's not saying much) than a baker!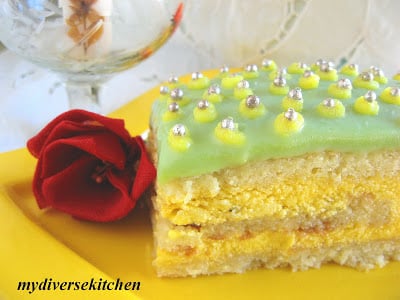 The recipe we were to use and a printable version of it can be found here.
Our hostesses were very kind to give us detailed instructions on making and assembling this cake. I decided that this cake should not be too difficult as the various parts could be made on different days and then assembled together. I also decide to halve the ingredients to make a smaller cake.
So I started off by making the sugar syrup. Very easy. I used vanilla extract as flavouring and added about 1 1/2 tsp of powdered cardamom. The result was lovely cardamom flavoured syrup.
Making the buttercream – This was where I first got a hint that things were going wrong and this whole Operatic business wasn't as easy as I thought!
I made the buttercream according to instructions. I used the original recipe and not the revised version suggested. I added about 4 tbsps of mango puree at the end while beating the buttercream. It's the mango season here in India and I just couldn't resist using a mango buttercream here.
The result was a very tasty but soft mango buttercream. I also noticed a bit of curdling in my buttercream resulting in a slightly grainy texture. Beating it some more didn't solve this problem. So I put it in the fridge and it stayed there for a couple of days before I could make the joconde. I beat the buttercream after taking it out of the fridge but this didn't make any difference, either.
Some DBs suggested the curdling could have been because the hot sugar syrup wasn't added slowly enough and could have cooked the eggs in the buttercream. I don't think this was the reason with me, as I was careful to pour the syrup slowly.
Making the Joconde – Making the joconde took a bit of adjustment on my part. I didn't have jam/ jelly roll pans. I have never made jam/ jelly rolls before. So I decided to use 2 same sized round cake tins to make the cake. So far so good. That's when I discovered I didn't have enough almonds for the cake. My fault entirely. It suddenly struck me that I had used the almonds to make some Crunchy Granola and forgotten to restock.
But I did have some cashewnuts. So I used half and half of almonds and cashewnuts and powdered them as instructed. This worked perfectly.
I baked the first cake for about 12 minutes. When I was baking the second one, I realized the first cake hadn't cooked and the middle had a consistency of raw marzipan. So I baked my second and third cakes for 20 minutes each and then baked the first one for a further 10 minutes. I have one of those newer small convection ovens and can bake only one cake at a time.
Now all the 3 cakes were cooked. But I had a tough time removing the parchment off the cakes. One cake almost came apart. This was when I started feeling that this challenge was perhaps not really working for me.
Assembling the Opera Cake – I decided not to make the ganache/ mousse as I couldn't find heavy cream here. What I had was a 25% fat cream. Some fellow DBs suggested alternatives and I wasn't feeling courageous enough to experiment and find out if it would work. Not a very Daring Baker this time, eh?
I moistened my three cakes with the cardamom flavoured sugar syrup and then took out the mango buttercream. This is where the music in my Opera started to sound funny! The middle layer of my cake was now threatening to disintegrate. I managed to put it together when I discovered the buttercream layers in my cake were becoming soft. Before it could become "runny", I stuck the cake back in the fridge.
By now I was feeling so miserable I couldn't look at that cake anymore. So it was the next day before I could pluck up the courage to even think about glazing it. I melted the white chocolate, added the cream with 25% fat and a bit of green food colouring (I thought it would be a nice colour contrast to the yellow/ orange of the buttercream) and glazed the cake.
The glaze was fine but the buttercream started softening again and oozing down the cake! Now my cake no longer had neat sides and looked awful. So it went back into the fridge. When the mango buttercream ooze had solidified, I cut the round cake into a square so that my cake would have neat sides. Mission accomplished!!
Well, partially accomplished anyways because my cake wouldn't win even a mention in any competition for "neat sides". And now I had to decorate my cake. By now I was sure that there was no way I was going to
be trying anything new in this direction. For one thing, with so many "cosmetic" adjustments, my cake had diminished considerably in size! For another, any cake decorating that took more than 5 minutes would require me to sit in the fridge with the cake. If I kept my cake out longer than that it would start oozing buttercream.
That's when my daughter suggested I could cut my square (and small) cake in half and practice my decorating on one half. And if it didn't work I could leave the other half plain and at least get a nice picture. This seemed a great idea.
So I melted and coloured (with yellow to match the buttercream) some white chocolate and tried decorating one half with some dots. It ended up as if my cake had broken out into a weird yellow rash!!
Not having the courage for any more disasters, I settled for piping some lines across the other half. I at least managed to get a decent picture. And if you can hear some very tragic singing (or howling) in the background, let me tell you it's not me. :D.
One thing I must make very clear though. This makes for a very tasty cake. We kept tasting the cake right throughout (Where else do you think all those trimmed scraps went?) and every time we kept saying, "But this tastes good"
This cake wasn't difficult to make. But I think I might to use a different buttercream next time, perhaps the buttercream recipe from the Perfect Party Cake because it worked for me. I was, however, attracted to this buttercream recipe because it uses a lot less of egg.
I think the reason for my buttercream softening so much and oozing out of the cake was the high temperature here at this time of the year. May is peak summer in southern India and it has been hotter than ever this year! So this is not a cake for the summertime.
While this particular cake making episode didn't work out for me, we liked the cake. I particularly liked the nutty flavour of the joconde and I know I will make this cake at least once more (using stronger flavours and dark chocolate) to see if I cannot make a success of it.
Please bloghop across to my fellow Daring Bakers to see the astonishing variety of Opera cakes that they have made and decorated. I am yet to recover from the visual feast.