If you know me well you might be surprised that I'm posting a recipe for a Cucumber Ribbon Salad. I've kept away from cucumbers for most of my life. Only recently have I started looking at them with some affection. By contrast, my sister always was a bit of what I thought of as a cucumber monster (à la the Cookie Monster). As a toddler she was very happy if you gave her a couple of plastic glasses or bottles filled with water and a small bowl of cucumber fingers. She would keep herself busy pouring water from one container to the other while munching on the cucumber in between!
Sometimes, there are days when you don't have the time to cook and then there are days when you don't want to cook. Whatever the kind of day, you know you're going to get hungry and there's always the option of eating out or ordering in. I tend to look at these as a last option though, and on most days I'd rather eat something I can put together at home. At times like these, it's a good thing to have some go-to recipes that take very little of your time but create a healthy and filling dish.
This Cucumber Salad is one of those easy, healthy dishes especially if you like cucumbers paired with the crunch of peanuts. I do.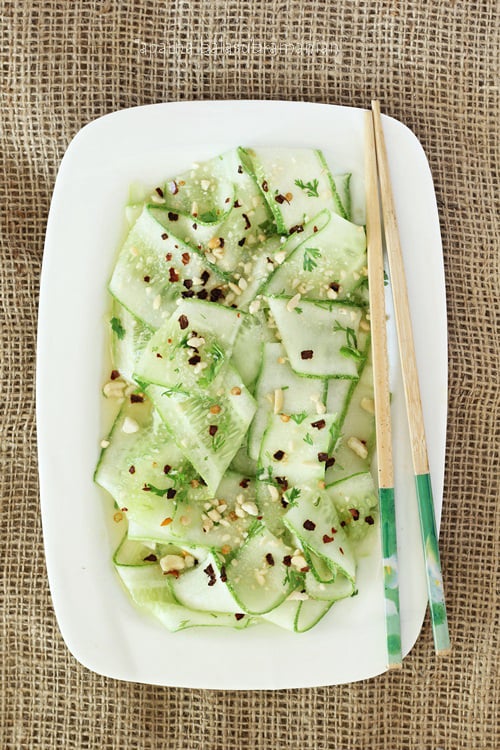 Using a potato peeler to peel the cucumber into thin long ribbons makes the salad look good too. Just make sure you choose cucumbers without too many seeds or ones where the seeds are tender, as these make the peeling that much easier as the cucumber ribbons need to be thin.
An Easy Cucumber Ribbon Salad
An easy summer salad of thin ribbons of cucumber and sliced onions dressed in a sweet, sour and spicy dressing and garnished with roasted peanuts.
Ingredients
2

cucumbers

medium

1

red onion

small , cut into thin slices

1 1/2

tsps

lime juice

fresh

1

tbsp

olive oil

1/2

tsp

honey

to taste

salt

1/2

tsp

red chilli

flakes

1/2

tsp

coriander

finely chopped fresh

2

tbsps

peanuts

toasted and crushed
Instructions
Trim the ends off the cucumbers. To make cucumber ribbons, slice each unpeeled cucumbers in half lengthwise. Using a vegetable peeler, peel off long thin slices of cucumber down the entire length of each cucumber half. Repeat on the other half and discard the remaining peel after the white portion has been all peeled.

Make a dressing by whisking together the lime juice, olive oil, honey, salt and chilli flakes.

Toss the cucumber ribbons and the sliced onions with the dressing and then plate it decoratively on a serving platter or on individual plates/ bowls. Garnish with the chopped coriander leaves and then sprinkle the crushed peanuts over this. Serve immediately.