What do you do when you life gives you a whole lot of apples? If you're me, you would probably turn some of them into apple pie. Since I am predictable when it comes to apple pie, I did bake pie. However, it was a Norwegian Apple Pie, for a change.
I love anything that's remotely like apple pie. I find the combination of apple, a bit of brown sugar, cinnamon and crisp flaky crust irresistible. I'd be quite happy with just apple pie filling and no, I don't really need the ice-cream.
Last week, I had gone vegetable and fruit shopping and came home with half a dozen apples as well. Two days later, we had family visiting and they brought us a lot more apples. In my native community, it is common courtesy to carry along some form of food, when we go visiting family and friends. Something sweet or fruit is norm. This is particularly important if there are elders or children in the family being visited.  It is the gesture that is important so it doesn't matter what you take along.
I went back to my cookbook collection and thumbed through for easy to bake recipes featuring apples. Much as I like apple pie, I didn't really want to spend time with a pie crust dough. I was looking for an easy and fuss free recipe that would give me dessert in an hour.
I found just the recipe in a Norwegian Apple Pie in Weeknight Desserts by Beatrice Ojakangas. I'm a fan of her recipes and this particular cookbook is full of easy dessert recipes.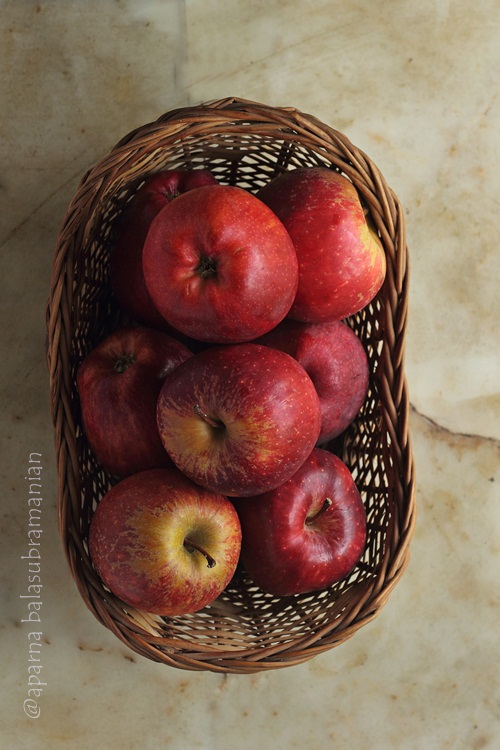 A Norwegian Apple Pie or Eplepai is not your typical pie with a crust and filling. It is actually more cake than pie but unlike any other apple cake you might have eaten. A traditional Norwegian recipe, it is simple, comforting and full of apple.
Once you have peeled, cored and diced the apples, the batter comes together in a matter of minutes. It's a one bowl recipe as well. You don't even need a hand held mixer. A wooden spoon is more than enough to make the batter. You just gently mix the dry ingredients into the wet ones. I forget to mention that this recipe also does not contain butter or oil.
You can cut it into wedges and serve it warm, as it. Otherwise serve with it a scoop of ice-cream or some whipped cream.
The recipe below is a slightly adapted version of the original.
Norwegian Apple Pie
A no-crust Norwegian Apple Pie that's more cake than pie, is easy to make and is all about the flavour of apples, cinnamon and nutmeg
Ingredients
1/2

cup

all purpose flour

1/4

cup

brown sugar

1/2

cup

white sugar

1

tsp

baking powder

pinch

of salt

1

tsp

powdered cinnamon

1/4

tsp

ground nutmeg

2

large apples

peeled, cored and diced

1/3

cup

chopped walnuts

1

egg

lightly beaten

1

tsp

vanilla extract

A little milk

if necessary
Instructions
Line a 8" pie dish (or cake tin) and butter or grease it well.

Put the flour, sugars, baking powder, salt, cinnamon and nutmeg into a large mixing bowl. Whisk together and then mix in thediced apple and walnuts so they're well coated with the flour.

Mix in the egg and vanilla extract. If the batter feels too dry mix in a little milk, a teaspoon at a time. Don't add too much milk because this batter should be stiff and not like typical cake batter.

Scrape the batter into the prepared tin and level it. Bake at 180C (350F) for about 30 minutes till the pie puffs up slightly and is brown.

Remove from oven and cut into wedges while still warm. Serve as is with coffee or tea, or with ice-cream or whipped cream.