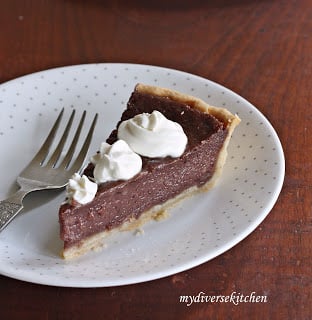 Four days back, I had no plans of baking a tart this week. In fact, I did not even know that such a tart existed! Yet, I baked this tart yesterday, took pictures this morning and am posting it this evening.
Meeta is celebrating her blog anniversary with a special edition of Monthly Mingle, her monthly event. This month she chose to celebrate with champagne. Now, alcohol doesn't feature in any form in our scheme of things, so I wished Meeta** a very happy blog anniversary and four days back made my apologies about not joining her party unless she was willing to let me arrive without any food in hand.
The rules at Meeta's mingles is that guests bring the food and this time its offerings of champagne in some form or the other. She also insisted that I couldn't stay away and was even willing to accept grape juice instead of champagne, as long as I made an appearance.
So how could I disappoint her?
Making something with grapes isn't too difficult, but what on earth could I make with grape juice? I've never thought along this direction before and a lot of searching threw up a Purple Cow as an option! With a name like this, I wasn't to sure that there would be any takers for it here, and it also seemed too tame to take to a party where everything else would be "champagne" class.
Then I came across a grape juice tart/ Tarte au Raisiné at La Prochaine Fois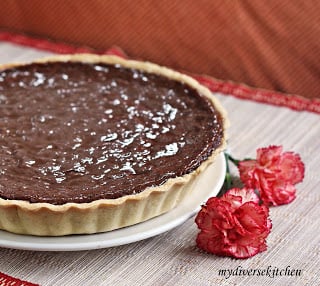 A "raisiné", is a thick and dark brownish concentrate of fruit juices. An old Swiss recipe, this raisiné or sweet and sour concentrate is made by slowly reducing the juice of seasonal fruit like apples and pears.
The original recipe uses the juice of white grapes. If I had to do this, it would mean making my own grape juice. Our days are getting warmer and the temperatures right now are about 5C above the normal at this time of the year.
Reducing the fruit juice itself was going to take time, and the last thing I wanted to do was to stew in my kitchen along with some grapes. So I bought a litre of dark grape juice and set to work.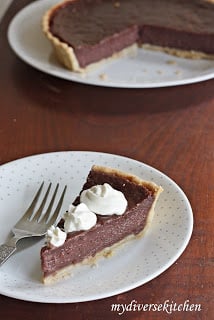 I have changed Cathy's recipe somewhat, mainly to adjust for ingredients available here and to reduce 1 egg. She also doesn't give a recipe for the crust, saying any sweet tart/ pie crust dough would be fine. I used a short crust pastry from Knead by **Carol Tennant.
This tart is quite interesting in that it requires reduction/ concentration of fruit juice for the filling. We liked the tart for its sweet yet slightly tart filling which is well balanced out when served with whipped cream or home-made mascarpone cheese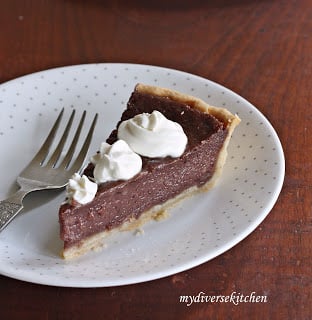 Dark Grape Juice Tart (Tarte au Raisiné)
Four days back, I had no plans of baking a tart this week. In fact, I did not even know that such a tart existed! Yet, I baked this tart yesterday, took pictures this morning and am posting it this evening.
Ingredients
For the short crust pastry:
1 1/4

cups

all purpose flour

generous

1

tbsp

sugar

pinch

salt

45

gm

butter

cold , diced

2 to 3

tbsps

water

cold
For the filling:
1

liter

grape juice

dark (or white)

150

ml

milk

(3%)

180

ml

cream

(25% fat)

3

tbsps

all purpose flour

1 1/2

tbsps

corn starch

1

tbsp

butter

1

egg

, whisked

2

tbsps

sugar

(adjust to requirement)

1 1/2

tsps

vanilla extract
Instructions
Make the crust:

You can do this by hand or in the food processor. I find the food processor excellent for making pie/ tart dough.

Sift the flour into a bowl. Add the butter and rub with fingertips into the flour, till the mixture resembles coarse bread crumbs.

Add 2 tbsp water and using your hands, bring the dough together adding a little water if necessary. Too much water will result in a tough pastry.

Turn the dough onto a lightly floured work surface and knead briefly till dough is smooth.

Form into a neat ball, flatten into a round, wrap in cling film and chill for at least 30 minutes.

Remove pastry from the fridge and place on lightly floured surface and roll out into a circle about 12u201d in diameter, slightly larger than a 9u201d fluted pastry ring/ dish. Roll the pastry in a back and forth motion and do not stretch or pull the pastry.

Place the pastry circle in the ring/ dish and carefully press to the edges, removing excess pastry with a knife. Lightly prick the base with a fork. Chill for about 20 minutes.

Remove from the fridge and line the pastry with foil or waxed paper, and fill with baking beans.

Bake at 200C for 12 minutes. Remove the foil/ waxed paper and put the crust back in the oven for another 10 minutes till golden brown.

Cool on a wire rack.

Make the filling:

Pour the grape juice (one litre) into a pan and bring to a boil. Then turn down the heat to low-medium and simmer, while stirring frequently, till it has reduced to 150 ml. Once the juice has reduced to roughly 1/3rd, watch the pan and its contents or you will end up with a burnt liquid! Let this cool to room temperature.

Put the milk, cream, cornstarch and flour into a pan. Mix well, and cook the mixture over medium heat till it becomes a smooth and thick paste. Add the butter and mix well. Let this cool.

In a small bowl, whisk the egg, sugar and vanilla extract. Add to the cooked and cooled mixture. Mix well. Now add the reduced grape juice and mix well. You might find your tart filling seems a little granular but thatu2019s fine.

Assembling the tart:

Pour the filling into the tart shell and bake at 200C for about 40 minutes. The filling will have set well. Do not be tempted to cook for longer or the texture of the filling will change.

Cool the tart well before slicing.