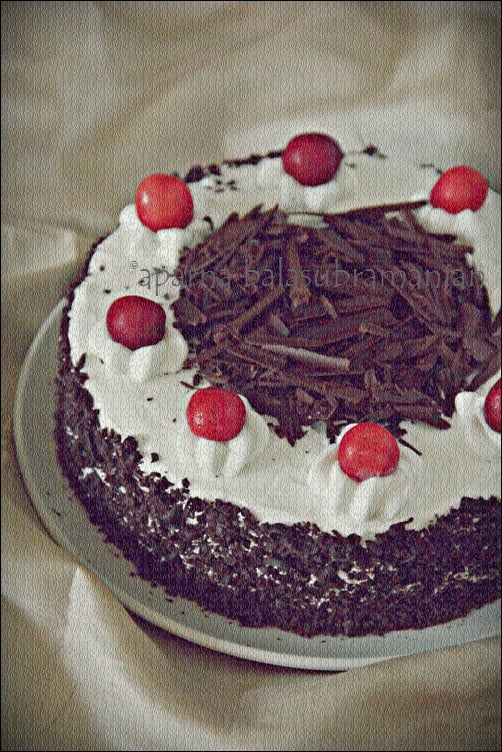 Schwarzwälder Kirschtorte literally translates as Cherry Cake from the Black Forest region of Germany. I don't think there are too many people who haven't heard of this cake of German origin or don't like it. I am one of those few who doesn't particularly like the Blackt Forest Gâteau/ Black Forest Cake! This mainly because I'm not very fond of cakes or confections filled or decorated with cream or frosting.
The confectioner Josef Keller supposedly invented the Schwarzwälder Kirschtorte in its present form in 1915 at the then famous Café Agner in Bonn.
My husband and daughter, like most Indians I know, love the Black Forest Cake. It was my husband's birthday about 2 weeks back and I had planned to surprise him with a home-made version. After making quite a fewlayeredcakes for the Daring Bakers challenges, I thought I could handle this.
Yes, I know for a lot of people out there, baking a layered cake and frosting it is as easy as peeling a few potatoes but I'm a person who gets scared at the thooght of having to cut cakes, fill them and stack them one on top of the other. I'm plagued by scary thoughts! What if I don't cut the layers neatly? What if my cake crumbles? How do I level the filling/ frosting to perfection? What of my stacked layers slide off and land on the table?What if the cream/ frosting melts in my notoriously hot Indian summer? And so it goes on.
But a birthday of one's better half deserves something beyond mediocre and something he definitely likes, and so I set about making the Black Forest Cake. We were also having a few guests to dinner the night before his birthday (no, it wasn't a party, just a coincidence) so I thought I could serve the cake for dessert. I don't normally experiment with food when guests are expected, so I had made some of Cynthia's coconut ice-cream just in case the cake was a disaster.
I had seen and bookmarked a recipe for this cake from Eva's blog Sweet Sins, quite a while back. She is a German living in Australia and had a recipe without using Kirsch (a cherry liquor). We don't use alcohol in any form, and I thought if a German could make a Black Forest Cake without Kirsch, then so could I. I managed to get all the ingredients, including a can of cherries (luckily not the sickly sweet ones in syrup). I have also made this cake with fresh cherries.
I used her recipe with a few modifications to suit the ingredients I had on hand. Eva had suggested I could use rum in place of Kirsch, but we're teetotalers and I don't like the flavour or taste of rum even in chocolate or Christmas fruit cakes. I used unsweetend apple juice instead.
I used 3 tbsp of cocoa instead of dark chocolate to cut down on the fat and calories (this might seem silly when you consider how much cream goes into the cake!). I also added 2 tbsp of cornstarch to the flour as I don't get cake flour here, as cake flour makes a lot of difference to the cake.
For the cherry filling, I had some frozen cherry compote (I had made this earlier when I had an excess of cherries) to which I added a little of the liquid from the canned cherries and liquidized to a grainy spreadable consistency. If you are using fresh cherries, you can make a compote with them using unsweetend apple juice. You can also add a little sugar to some more apple juice and bring it to a boil, let it cool and then use that as a soaking syrup for the cakes to keep them moist.
In India, we only get cream with 25% fat so that is what I used for whipped cream. Given the general higher temperatures in India, you can stabilize your cream with cornstarch or agar for better results. It helps to refrigerate the cake at the slightest hint that the heat is getting to the cake. Now this is not a true Schwarzwälder Kirschtorte, because it lacks the Kirsch, but its close enough to qualify for the name, in my opinion.
An Alcohol-free Schwarzwälder Kirschtorte or Black Forest Gateau/ Cake
Schwarzwälder Kirschtorte literally translates as Cherry Cake from the Black Forest region of Germany. I don't think there are too many people who haven't heard of this cake of German origin or don't like it. I am one of those few who doesn't particularly like the Blackt Forest Gâteau/ Black Forest
Ingredients
For the cake:
4

eggs

, separated

1

cup

sugar

100

gm

unsalted butter

1/4

tsp

salt

3

tbsps

cocoa

unsweetened dark powder

1

cup

cake flour

(or 2 tbsp + all-purpose flour to make up to 1 cup)

1

tsp

baking powder

1 1/2

tbsps

lemon juice

1

tsp

vanilla essence
For the cherry filling:
1

cup

cherries

pitted fresh (or canned)

1

cup

apple juice

unsweetened

1/2 to 3/4

cups

sugar

(more or less depending on how sweet your cherries are)

1

tbsp

lime juice

1 1/2

tsps

cornstarch
For the soaking syrup:
1

cup

apple juice

unsweetened

1/4

cup

sugar
For the whipped cream:
400

ml

cream

(25% fat, I used Amul)

5

tbsps

icing sugar

1

tbsp

cornstarch

1

tsp

vanilla essence
For decorating:
cream

whipped

cherries

fresh or canned

chocolate

curls and shavings
Instructions
For the cherry filling : Keep aside the cherries needed for decoration and chop up the remaining cherries. Reserve about 4 tbsp of the apple juice to dissolve the corn-starch and use the rest to make the filling. Put the pitted cherries and half the apple juice/ liquid in a blender and blend till smooth.

Put this in a pan, with the remaining apple juice/ liquid in which the cherries were preserved, sugar (according to taste and depending on how sweet the cherries are) and the lime juice and bring to a boil. When this has reduced a bit, add the dissolved corn-starch, mixing it well first, and allow the filling to thicken. Take it off the heat, allow it to cool, and use to fill the cake.

For the soaking syrup : Bring the apple juice and sugar to a boil in a small pan and simmer for about 2 minutes. Take it off the heat and let it cool. Use this syrup to moisten the cake.

For the whipped cream : Refrigerate the cream for about 12 to 24 hours till really thick. Pour into a chilled steel bowl, add the sugar and vanilla essence, and beat with an electric mixer till it forms soft peaks. Add the cornsstarch and beat further till the cream forms stiff peaks which hold their shape. This will take between 6 to 10 minutes. Refrigerate till ready to use. Do this about an hour before you are ready to use the whipped cream.

For the cake : Melt the butter and cocoa powder over hot water and mix well. Cool till it is lukewarm but of pouring consistency.

In another bowl beat the egg yolk and sugar, using a electric beater, over hot water till it is pale, creamy and increases in volume. This will take about 2 minutes.

In a third clean and stainless steel bowl, beat the egg whites and salt till they form soft peaks.

Sift the flour and baking powder onto the egg yolks and then pour the chocolate mixture also into this bowl. Do not mix. Add one third of the beaten egg whites to the bowl and stir lightly into the batter. Then add the remaining beaten egg whites to the batter and fold carefully making sure everything is well mixed.

Pour into an 8u201d (20cm) round cake tin with a round of parchment paper at the bottom and well-greased sides. Bake at 180C (350F) for about 35 minutes till the top of the cake springs back when touched. Do not over-bake, or the cake will dry out.

Assembling the cake : After the cake has cooled a bit, remove from the tin and neatly cut it into 3 layers horizontally.

Place the top most layer of the cake on your serving plate, with the cut side facing up. Moisten the layer with a few tsp of syrup. Spread one half of the cherry filling on this layer. The use 1/4 of the whipped cream and spread it over this. Place the middle layer over this.

Moisten this layer with the syrup too, and spread the remaining cherry filling over this layer too. Spread another 1/4 of the whipped cream over this. Now place the bottom most layer on top with the underside facing up. Keep aside some of the whipped cream for decorating and spread the rest of the cream on the top and sides of the cake and smoothen it out.

Now decorate the sides with the chocolate curls or shavings and the top as well if you wish. Decorate with piped cream and cherries. If you live in warmer climates, it would be a good idea to refrigerate the cake till you serve it.
Notes
How was the cake? It was good, very good. I actually liked it. It was light and not too sweet. I still have those cherries in my fridge and I will try making this again. Hopefully, this time, it will look prettier and I'll be able to get some pictures.
By the way, I found decorating the sides of the cake with chocolate shavings quite difficult and messy. Any suggestions for a neater and easier way to do this?
Eva's recipe uses 6 eggs but I cut that down to 4 eggs, which I couldn't smell or taste in the cake. That surprised me. The cake was soft with a lovely texture, yet firm enough to cut into three layers without any difficulty. You can cut the cake into two layers if you prefer and it'll still be good. Just add a thicker layer of filling and the cream between the two layers.
And the whipped cream was just right and not too sweet. I only wish the weather was cooler and I would have had a prettier cake. But I didn't see anyone complaining. All the guests, and my husband of course, opted for the cake and thoroughly enjoyed it. They had smaller helpings of the coconut ice-cream too.